For The First Time In 10 Years Companies Will Sell More Stock Than They Buy Back
For US corporations, the "teens" decade - the years from 2010 to 2019 - was a historic "get rich quick" boom for management when buybacks emerged as the most powerful force levitating stocks (and equity-linked compensation) as companies collectively issued trillions in debt and used the proceeds to repurchase over $10 trillion worth of their own shares, in the process dramatically lifting the stock market and reducing the number of outstanding shares (we called it a slow-motion MBO) and pushing the S&P's earnings per share ever higher even when there was no actual earnings growth simply because the number of shares declined year after year.
All of that changed in 2020 when thanks to covid, central banks made a triumphal return to their core competency of propping up stocks at all costs (just moments ago we reported that the BOJ is now the single-biggest owner of Japanese stocks) and by injecting over $20 trillion in liquidity in 2020, a rate of over $1.2 billion every hour, buybacks were no longer required to push markets higher and preserve the biggest asset bubble ever created. What also changed is that since buybacks were no longer needed, with the Fed and its central bank peers backstopping all risk assets, buybacks reversed and for the first time since 2010, in 2020 companies will sell more stock than they buy back.
As Bloomberg reports, "while American firms normally repurchase way more stock than they sell, this year has been different, as offerings by everyone from Snowflake Inc. to Warner Music Group Corp. flooded the market with shares." It's not just growth stocks that are rushing to capitalize from the market's peak euphoria phase, which according to Goldman has seen positioning so "extremely stretched" it is currently in the 98th percentile in history: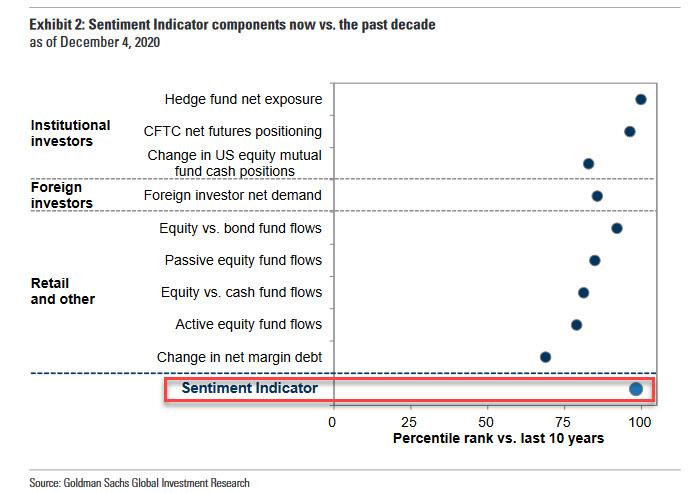 As Bloomberg notes, companies that were hurt most during the pandemic, from airlines to cruise lines, are also rushing to raise cash and shore up balance sheets. And they are finding plenty of willing buyers.
Disclaimer: Copyright ©2009-2020 ZeroHedge.com/ABC Media, LTD; All Rights Reserved. Zero Hedge is intended for Mature Audiences. Familiarize yourself with our legal and use policies every time ...
more