FERC Ruling Pushes Pipelines Out Of MLPs
Investors continue to show their disdain for the sector. Management teams long ago broke the implicit contract of stable payouts. The 30% cut in distributions since 2014 is reflected in the 40% drop in the Alerian Index. CEOs promise that much of this redirected cash will result in faster growth, and 15% annual Free Cash Flow (FCF) growth looks plausible to us. But the business model of attractive yields with little need to reinvest in the business has shifted in response to the opportunities created by the Shale Revolution. The older, wealthy Americans who were long the main MLP investor wanted their distributions, and this pursuit of growth projects has alienated them by disrupting their income. Consequently, the market is waiting to see if new projects will generate promised higher returns.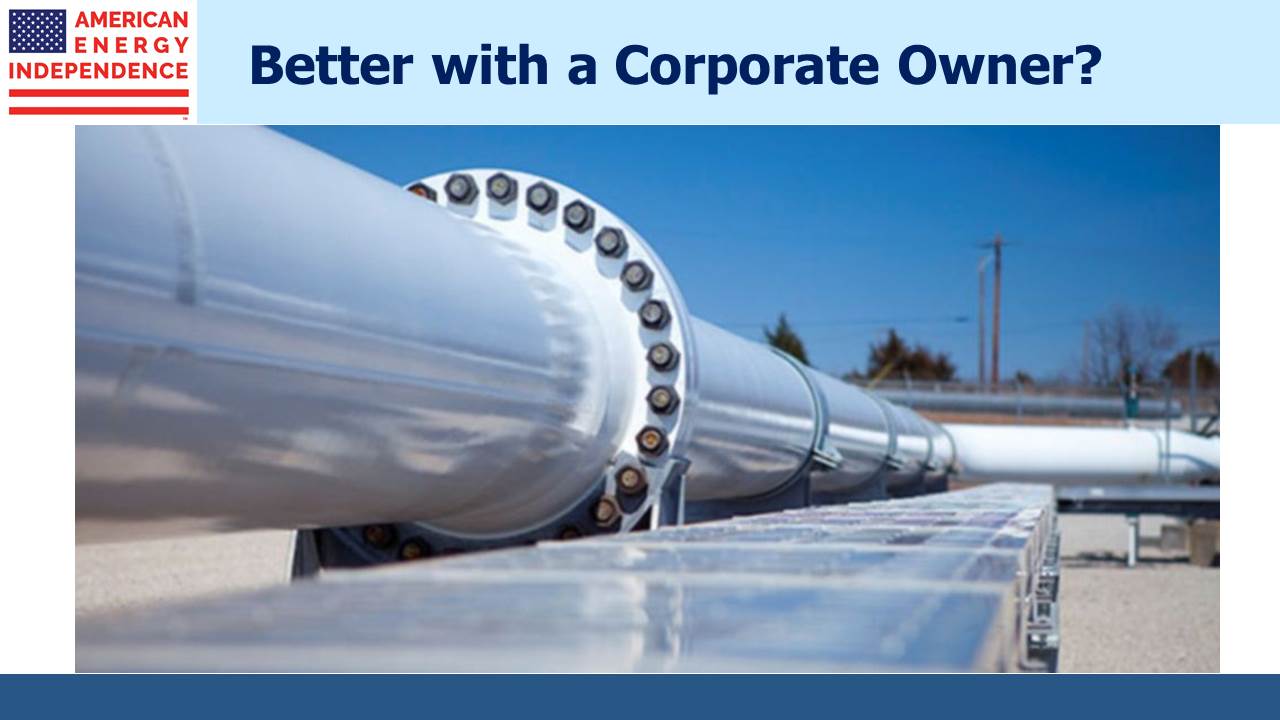 MLPs now represent less than half of U.S. Energy infrastructure, because the MLP has turned out to be a poor source of growth capital. MLPs are far from irrelevant, but they are a shrinking subset. The FERC ruling was another reason to make both investors and MLPs themselves question whether the structure is still worth the trouble. Furthermore, to be an investor in a dedicated MLP fund is to miss most of the sector as well as incur a substantial corporate tax drag (see AMLP's Tax Bondage).Broad exposure to energy infrastructure through a RIC compliant fund that caps MLP investments at less than 25% looks increasingly preferable.
However, there's another class of investor that sees much to like in energy infrastructure, and that's private equity. Although there's limited public data available on transaction prices, these long term investors are steadily investing in long term energy assets. Blackstone acquired MLP asset manager Harvest Fund Advisors last August, in a clear bet on a resurgent asset class, having just paid $1.5 billion for 32% of Energy Transfer's Rover pipeline. Tortoise, another large MLP asset manager, sold out to a group of private-equity firms led by Lovell Minnick Partners. Other private buyers include 4 AM Midstream (acquired midstream assets from White Star Petroleum), Meritage Midstream (acquired Powder River basin subsidiary of Devon Energy), and Stakeholder Midstream (Permian gathering system).
Disclaimer: For more detailed information please click here.