Featured Stock In May's Exec Comp & ROIC Model Portfolio
Cummins Inc. (CMI) is the featured stock in May's Exec Comp Aligned with ROIC Model Portfolio. We made CMI a Long Idea in November 2018. The stock is up 12% since our report and has outperformed the market (S&P +7%).
Since 2016, CMI has grown revenue by 17% compounded annually and after-tax operating profit (NOPAT) by 28% compounded annually. CMI's trailing twelve month (TTM) NOPAT of $2.7 billion is up 47% year-over-year. The company's NOPAT margin has increased from 8% in 2016 to 11% TTM while return on invested capital (ROIC) has improved from 12% to 17% over the same time.
Figure 1: CMI Profit Growth Since 2016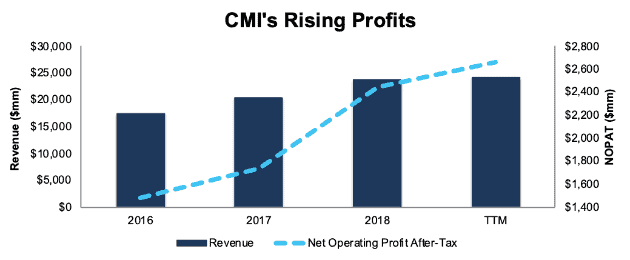 Sources: New Constructs, LLC and company filings
Executive Compensation Plan Helps Drive Shareholder Value Creation
At the beginning of 2018, CMI's board replaced replace return on equity (ROE) with ROIC as the target for its long-term incentives.
We applaud this shift, as ROE is not as reliable a metric for investors. It can be distorted by leverage, which is Cummins' reason for making the change, but it also relies on flawed accounting earnings and ignores off-balance sheet items. ROIC is a superior metric that has a much more significant link to valuation.
Under the new compensation plan, 80% of long-term executive compensation will be linked to ROIC. This focus on improving ROIC will align the interests of executives and shareholders and ensure prudent stewardship of capital. There is also a strong correlation between improving ROIC and increasing shareholder value, a fact highlighted in our recent article "CEOs That Focus on ROIC Outperform."
CMI Provides Significant Upside Potential
At its current price of $164/share, CMI has a price-to-economic book value (PEBV) ratio of 0.8. This ratio means the market expects CMI's NOPAT to permanently decline by 20%. This expectation seems overly pessimistic for a firm that has grown NOPAT by 28% compounded annually since 2016 and 11% compounded annually over the past decade.