Featured Stock In January's Exec Comp & ROIC Model Portfolio
Recap from December's Picks
Our Exec Comp Aligned with ROIC Model Portfolio (-0.4%) underperformed the S&P 500 (+3.3%) from December 13, 2019, through January 13, 2020. The best performing stock in the portfolio was up 8.7%. Overall, five out of the 15 Exec Comp Aligned with ROIC Stocks outperformed the S&P from December 13, 2019, through January 13, 2020.
Only our research utilizes the superior data and earnings adjustments featured by the HBS & MIT Sloan paper, "Core Earnings: New Data and Evidence." The success of this Model Portfolio highlights the value of our Robo-Analyst technology[1], which scales our forensic accounting expertise (featured in Barron's) across thousands of stocks.
This Model Portfolio only includes stocks that earn an Attractive or Very Attractive rating and align executive compensation with improving ROIC. We think this combination provides a uniquely well-screened list of long ideas because return on invested capital (ROIC) is the primary driver of shareholder value creation.[2]
New Stock Feature for January: PACCAR Inc. (PCAR: $77/share)
PACCAR Inc. (PCAR) is the featured stock in January's Exec Comp Aligned with ROIC Model Portfolio.
We recently highlighted PCAR as one of our Most Attractive stocks on May 9, 2019. Since then, the stock is up 11% (vs. S&P 500 up 15%) and looks even more undervalued.
Since 2016, PCAR has grown revenue by 17% compounded annually and after-tax operating profit (NOPAT) by 25% compounded annually. Trailing twelve-month (TTM) NOPAT is up 23% over the prior TTM period. Profit growth has been fueled by rising NOPAT margins, which are up from 1% in 2009 to 9% TTM.
Figure 1: PCAR Revenue & NOPAT Growth Since 2016
(Click on image to enlarge)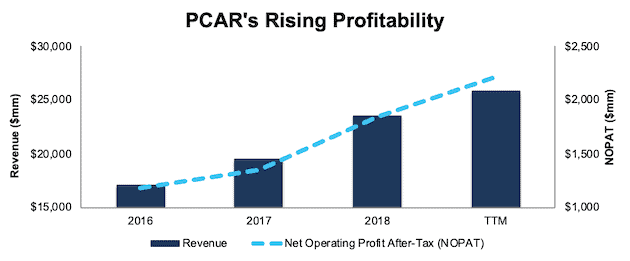 Sources: New Constructs, LLC and company filings
Executive Compensation Plan Helps Drive Shareholder Value Creation
PCAR has included return on capital as a performance metric in its executive compensation plan for over 20 years. Last year, a three-year change in return on capital was one of three equally weighted metrics used to determine executives' long-term cash awards.