Featured Stock In April's Dividend Growth Model Portfolio
The long-term success of our model portfolio strategies highlights the value of our Robo-Analyst technology[1], which scales our forensic accounting expertise (featured in Barron's) across thousands of stocks[2].
The methodology for this model portfolio mimics an All-Cap Blend style with a focus on dividend growth. Selected stocks earn an Attractive or Very Attractive rating, generate positive free cash flow (FCF) and economic earnings, offer a current dividend yield >1%, and have a 5+ year track record of consecutive dividend growth. This model portfolio is designed for investors who are more focused on long-term capital appreciation than current income but still appreciate the power of dividends, especially growing dividends.
Featured Stock from April: Snap-On Inc. (SNA: $168/share)
Snap-On (SNA) is the featured stock from April's Dividend Growth Stocks Model Portfolio. Snap-On was previously made a Long Idea in February 2018 and still earns our Attractive rating.
Since 2009, SNA has grown after-tax profit (NOPAT) by 17% compounded annually, to $699 million in 2018. Over the same time, NOPAT margin improved from 7% in 2009 to 17% TTM while its return on invested capital (ROIC) improved from 7% to 14%. The company has also generated free cash flow of $1.4 billion (15% of market cap) over the past five years.
Figure 1: SNA's Revenue and NOPAT Since 2009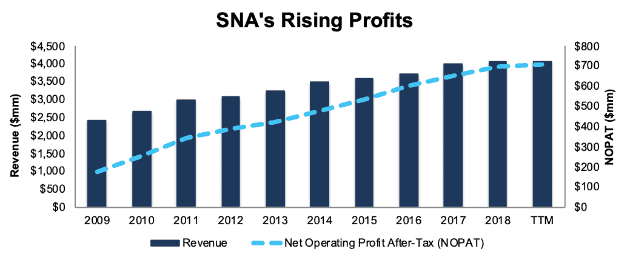 Sources: New Constructs, LLC and company filings
Steady Dividend Growth Supported by FCF
Snap-On has increased its annual dividend each of the past 10 years. SNA's annual dividend has grown 17% compounded annually, from $1.85/share in 2014 to $3.41/share in 2018. Most importantly, SNA easily generates the cash flow needed to continue paying and growing its dividend. Over the past five years, SNA has generated a cumulative $1.4 billion in FCF while paying $744 million in dividends.
Companies with FCF well in excess of dividend payments provide higher quality dividend growth opportunities because we know the firm generates the cash to support a higher dividend. On the other hand, the dividend of a company where FCF falls short of the dividend payment over time cannot be trusted to grow or even stay the same because of inadequate free cash flow.
Disclosure: David Trainer and Kyle Guske II receive no compensation to write about any specific stock, style, or theme.
Disclosure: New Constructs staff receive no compensation to write about any ...
more