F Stock Price Up 30% YTD. Upgraded By J.P. Morgan
A high percentage of call activity tends to represent bullish trends. A lot of those trades were made by traders who expect the stock to go higher, and they want to use leverage (through options) to make money on that move.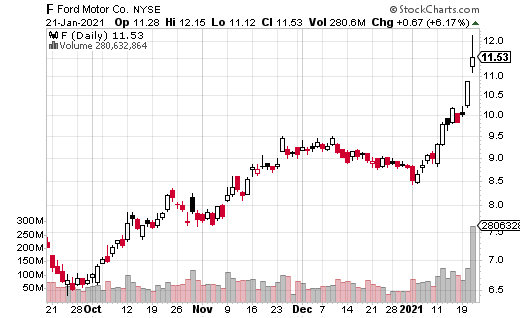 During the week, a trader executed an intermarket sweep of calls, meaning they bought every single call they could get their hands on across every exchange. It's a very aggressive way to accumulate options. In this case, the calls were at the January 2022 17 strike. These one-year calls were purchased 1,000 times for $0.65, with the stock trading at $10.80.
This trade breaks even if F gets to $17.65 in a year. While it's almost $7 higher than the share price at the time, it's also not a lot to pay for year-long options. More importantly, aggressively buying out-of-the-money calls in large blocks is often a very positive sign that the stock could be headed much higher. Maybe F will end up being the next hot electric vehicle stock after all.
Disclaimer: Information contained in this email and websites maintained by Investors Alley Corp. ("Investors Alley") are provided for educational purposes only and are neither an offer ...
more