Exxon Jumps After Reporting First Loss In 40 Years, Vows No Cuts To Its Massive Dividend
Exxon is an odd stock: one day after extremely bullish news hit that the company had negotiated a potential merger with Chevron in what clearly was a trial-balloon, the stock slumped. Yet on Tuesday morning, with Exxon reporting its first annual loss in 40 years, the stock us jumping.
For the fourth quarter, Exxon posted a previously disclosed $19.3 billion writedown of U.S. natural gas and other assets, capping the first annual loss for the Western world's largest oil company in at least four decades. However, excluding the historic impairment, Exxon returned to profit in the fourth quarter, earning 3 cents per share, above the 0.02 consensus estimate, and ending a run of three consecutive quarterly losses.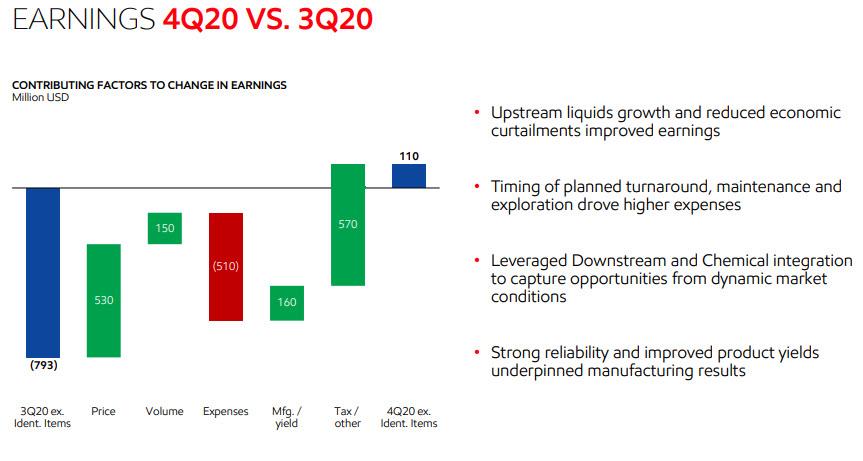 Some more highlights from the Exxon report:
Q4 20 Adj. EPS 0.03 (exp. 0.01),
Revenue 46.5bln (exp. 48.76bln)
CapEx USD 4.77bln (exp. 3.99bln)
Exceeded cost-reduction objectives, with 2020 capital spending of USD 21 bln below target by USD 2bln;
Cash operating expense more than 15% below 2019, of which USD 3bln is a structural reduction
Additional annual structural operating expense reductions of USD 3bln expected by 2023, resulting in total annual structural reductions of USD 6bln versus 2019
Cash flow this year expected to cover capex and maintain the dividend and strong balance sheet.
Assumptions include Brent prices of USD 50 per barrel and lowest annual Downstream and Chemical margins during 2010-2019; portfolio flexibility enables further adjustments
XOM will continue to evaluate organization and cost structure
Total non-cash, after-tax fourth-quarter impairment charges were USD 19.3 billion.
Looking ahead XOM expects surging cash flow growth: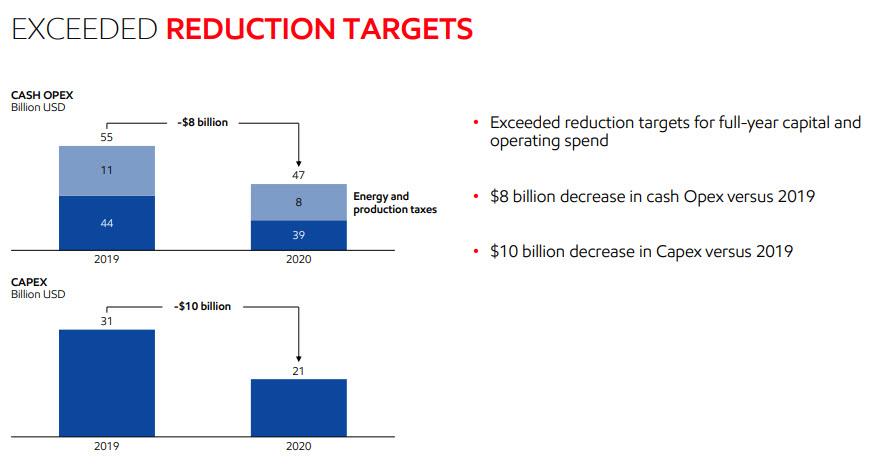 Some more details on the XOM production front:
Quarterly oil equivalent production 3.7mln BPD, consistent with Q3
Permian volume averaged 418,000 oil-equivalent barrels per day, +42% Y/Y.
FY production averaged 367,000 oil-equivalent barrels per day.
FY 2020 drilling and completion costs were more than 25% lower than 2019. Over the same period, drilling rates (lateral feet per day) improved more than 20 percent and fracturing rates (stages per day) improved more than 30 percent.
ExxonMobil continued to progress major deepwater development in Guyana. Exploration, appraisal, and development drilling continues across four rigs with plans to add additional rigs in the first half of 2021.
Disclosure: Copyright ©2009-2021 ZeroHedge.com/ABC Media, LTD; All Rights Reserved. Zero Hedge is intended for Mature Audiences. Familiarize yourself with our legal and use policies every ...
more