E

EQ Works: "Our Competitors Can Only Dream About What We Offer"
Q3 Financial Review
In Q3 many of its customers renewed previously paused campaigns due to the COVID-19 crisis resulting in:
revenues increasing by 64% sequentially to C$2.85M;
gross margin improving to 50% sequentially from 37%;
adjusted EBITDA loss improving to approximately C$(0.1)M sequentially from C$(0.6)M.
The above trends are expected to continue and to grow substantially going forward.
Data solutions revenue in Q3/2020 was C$0.7M and now accounts for 25% of the company's overall quarterly revenue. That being said, the largest ad market in the world, the U.S., currently accounts for only 7% of the company's revenue so there is unlimited potential for company growth. We await news of more U.S. deal signings.
Below is a revised summary of related company financials:

Source: Company Reports, S&P Capital IQ, eResearch Corp.
As identified above, eResearch Corp. - the new owner of munKNEE.com - projects the following growth on revenue and EBITDA:
2020E: Revenue $10.3 million; EBITDA -$1.1 million;
2021E: Revenue $17.8 million; EBITDA $3.0 million;
2022E: Revenue $23.2 million; EBITDA $5.6 million
(Click on image to enlarge)

Source: Company Reports and eResearch Corp.
In addition, eResearch forecasts an equal-weighted price target of C$2.00 based on a DCF valuation of C$2.24/share and a Revenue Multiple valuation of C$1.82/share. Go here to convert the above Canadian dollar figures into other currencies. (If you are interested in eResearch's 12-page Update Report on EQ please click here.)
Stock Performance YTD (in Canadian dollars)
(Click on image to enlarge)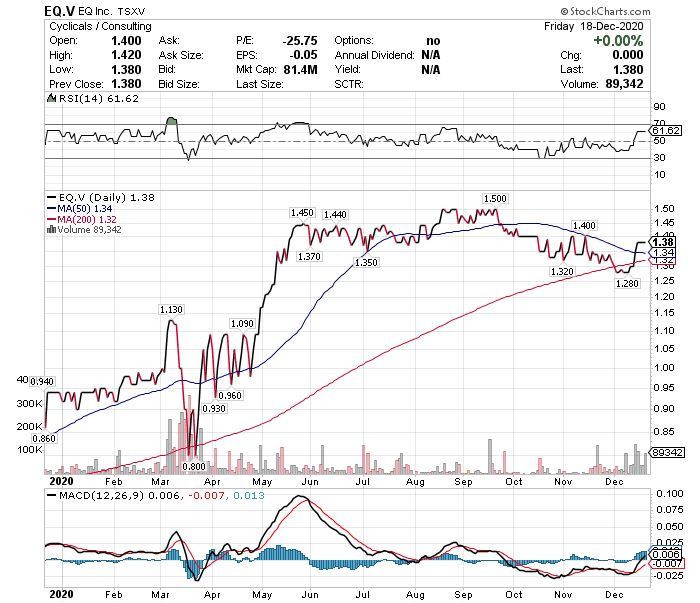 My research of EQ suggests that it has a bright future. I currently do not own any stock in the company but plan to buy some in early 2021 if their stock continues to hold up. For the record, I was ...
more