Dwindling Pipeline Capacity Causes FOMO
Substantive developments to explain the rally are few, although Saudi comments favoring $80 oil have helped. Technical analysts have noted that energy infrastructure shows signs of bottoming, something not heard since 2016. Energy stocks are gaining more airtime on CNBC. More tangibly, on Wednesday, the WSJ's Is the U.S. Shale Boom Hitting a Bottleneck gathered substantial attention by suggesting, "…the U.S. shale boom appears to be choking on its own growth…"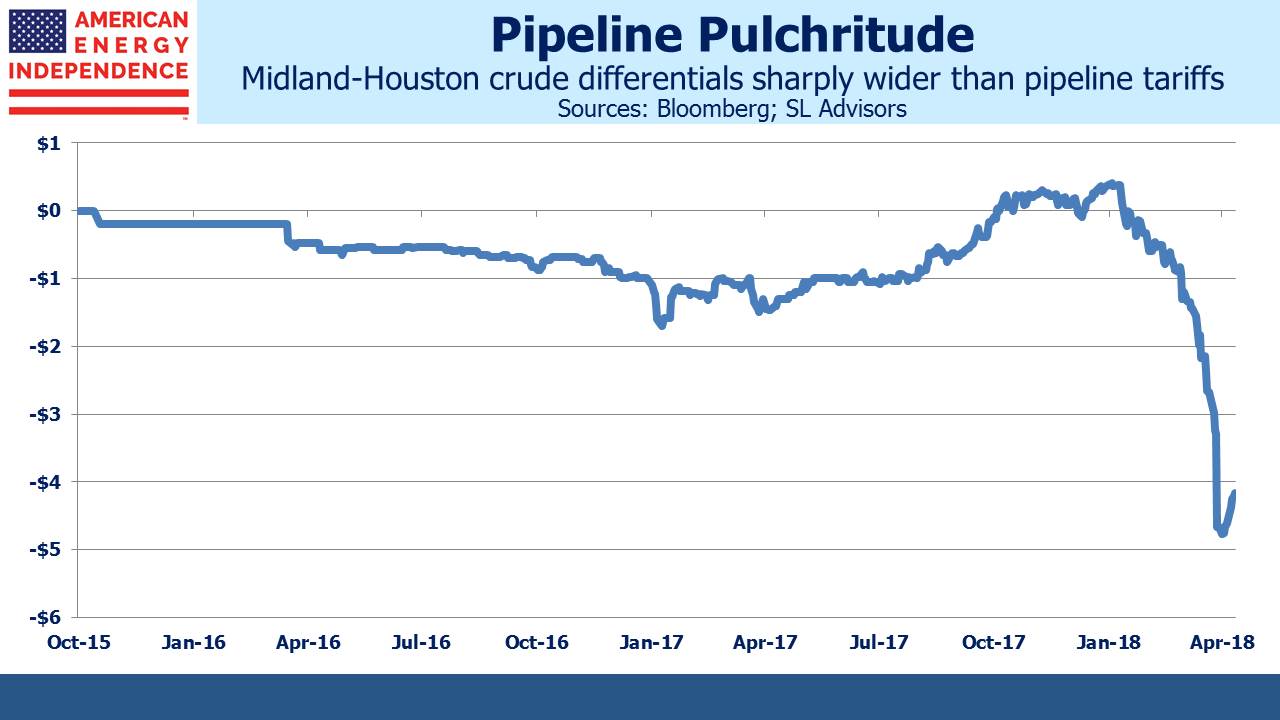 The article included a chart (reproduced here) that is a true object of beauty to any pipeline owner. The problem of sharply growing crude oil production in the Permian is testing the limits of take-away pipeline capacity. Crude oil located in Midland is usually worth less than in Houston, where it's conveniently near refineries and export facilities. The price difference is typically going to be limited by the cost of pipeline transportation, which is around $2-3 per barrel. Permian output is currently 3.1 Million Barrels per Day (MMB/D), with pipeline take-away capacity of 3.2MMB/D.
The price differential has widened beyond the pipeline tariff because not all the crude wishing to travel to Houston can get in a pipeline. Some is moving by rail (around $8 per barrel) while truckers charge from $10 to as high as $15-20 (truck drivers are in high demand in Texas).
This is a problem for Permian oil producers, since the increased cost of getting their product to market eats into margins. However, it's a profit opportunity for pipeline owners, since the portion of their capacity that is sold at market rates is now much more profitable. Bottlenecks are good for infrastructure owners. They make money from regional price differentials in excess of the costs of storage and transportation. When Plains All American (PAGP) cut their distribution last year, they blamed it on a collapse in their Supply and Logistics division as regional price differentials were boringly close to transportation costs, minimizing arbitrage opportunities.
Disclosure: We are invested in EPD, ETE, KMI, PAGP and TEGP
Disclaimer: For more detailed information please click here.