"Dreams All The Way Up"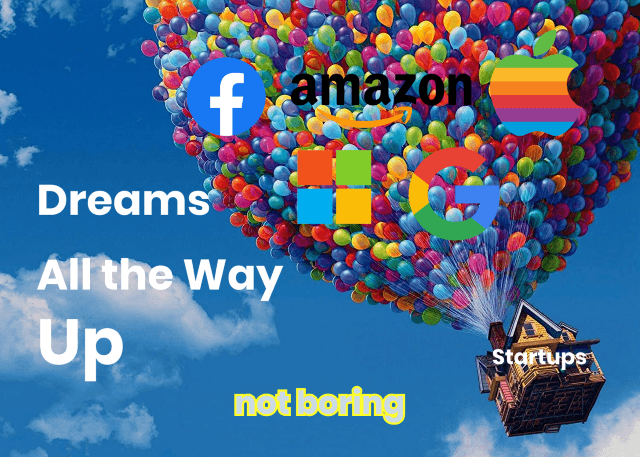 Meme via "Not Boring" by Packy McCormick.
A Novel Way To Value Tech Stocks
"Dreams all the way up" was the title of an interesting post by business strategist Packy McCormick earlier this week. It caught our eye for two reasons. First, because it offered a novel metric to justify some current tech stock valuations, and second because it discusses a couple of our current (and past) top names, Tesla (TSLA) and Shopify (SHOP).
McCormick notes that of the biggest tech companies -- Facebook (FB), Apple (AAPL), Amazon (AMZN), Microsoft (MSFT), and the company we all still call Google (GOOG) (GOOGL) -- four out of five have market caps over a trillion dollars now. Because of that, he says, these "FAAMG" stocks are a good proxy for how big the market thinks tech companies can get. Riffing on Price/Earnings multiples, McCormick coins his Price/FAAMG metric: the probability that a particular tech stock will become as big as one of the FAAMG stocks. Before the math geeks jump in: yes, since McCormick is talking about probability, the correct notation here should be P(FAAMG).
Shopify As A Case Study
One of McCormick's case studies in his post is Shopify. First, he points out it looks expensive according to fundamentals:
Since going public in May 2015, Shopify's stock is up over 5,000%. It's currently trading at a 60x NTM EV / Revenue multiple and a 395.7x NTM PE ratio. Those are both very high numbers if you're valuing Shopify based on the fundamentals, and indeed, Shopify has felt expensive at almost every point on its meteoric rise since late 2018.
Then he considers the probability that Shopify will become as big as Amazon:
Amazon Market Cap. Over the past five years, Amazon has grown its market cap 6.7x, from $245 billion to $1.65 trillion.

Probability SHOP Becomes AMZN. The implied probability that Shopify becomes Amazon, based on their relative market caps, has increased from 0.68% to 10.76%, not taking into account the fact that Amazon is likely to continue to get bigger as SHOP catches up.