Dow, Nasdaq Price Forecast: US Stocks September Slide Continues
US STOCKS RUN INTO SELLERS AT SEPTEMBER OPEN
After a blistering rally took US markets by hold in late-March, the Nasdaq gained as much as 88% over the next five months-and-change. The Dow Jones Industrial Average was up by a more modest 60% but given that this was taking place as a global pandemic was taking the world by storm, it was still a very respectable number in a relatively short period of time. To be sure, there was some rationale for this move to develop; perhaps not to the degree that it did, but when you have all of the Federal Reserve, the Treasury Department and Congress aiming the stimulus cannons at a problem, there's likely to be some element of response. Given the fact that bond yields were incredibly low and the investing world had a dearth of alternative investment options, this rally might make a little more sense. But – it does beg the question of value and whether or not current levels are warranted given the number of questions in the backdrop.
Those equity rallies in the US were incredibly consistent through the bulk of the summer, driving all the way through August as the Federal Reserve shifted their strategy to be perhaps even more accommodative in the future. But it was just days after Jerome Powell unveiled this shift at the Jackson Hole Economic Symposium that equities pushed up to that fresh high, and then began to reverse.
The Nasdaq is likely going to be the most operative focal point: The tech-heavy index gained a whopping 88% from the March lows up to that September first high, setting a fresh all-time-high in June and continued to chug along through July and August. Correspondingly, as sellers have shown up in September, the index has also pulled back with aggression, giving up approximately -14% from those prior highs set just a few weeks ago.
NASDAQ 100 FOUR-HOUR PRICE CHART
(Click on image to enlarge)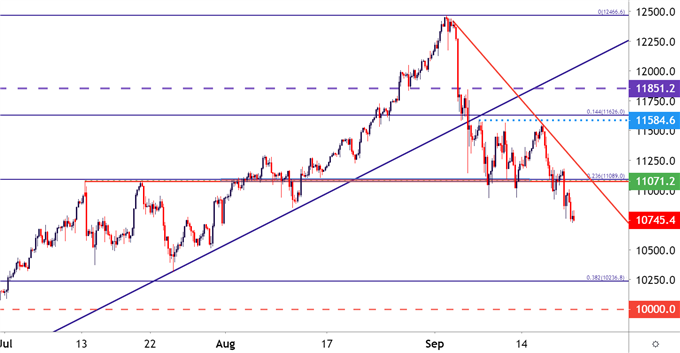 Chart prepared by James Stanley; Nasdaq 100 on Tradingview
NASDAQ 100 SLIPS BELOW SUPPORT
Disclosure: See the full disclosure for DailyFX here.