Dow Jones, Nasdaq 100, DAX 30 Forecasts For The Week Ahead - Sunday, Jan. 24
DOW JONES, NASDAQ 100, DAX 30 FORECASTS: NEUTRAL
The DAX 30 will look to broader economic readings in the form of GDP and employment data
DOW JONES FORECAST
OUTLOOK: NEUTRAL
Earnings season will continue this week as the nations largest financial institutions pass the baton to some of the most influential companies in other sectors. As January approaches its end, risk appetite has become rather brittle and the upcoming quarterly reports will likely play a crucial role in either repairing damaged sentiment, or shattering it altogether.
EARNINGS TO BE RELEASED JANUARY 25 – JANUARY 27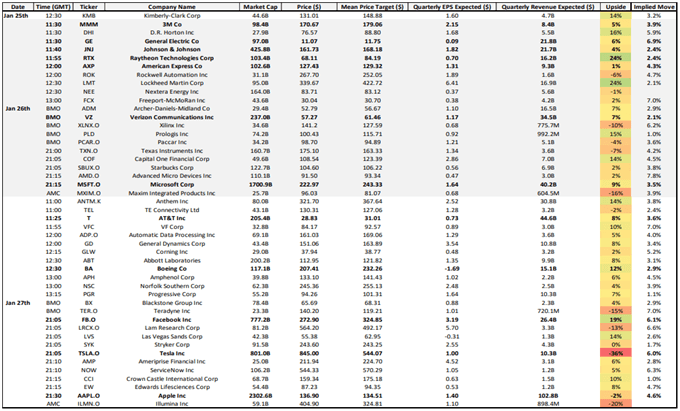 Source: Refinitiv, Bloomberg, Justin McQueen
As for the Dow Jones specifically, names like 3M, Johnson & Johnson and Boeing will offer key insight into sectors vital to the economy outside of technology. Boeing was recently included in our list of three stocks to watch in the week ahead due to its recovery efforts and a strong earnings performance could help revive what was once the highest-weighted member of the Industrial Average. Should Boeing reclaim its former place, it would account for more than 10% of the index and could help close the gap between the Nasdaq 100 and Dow.
EARNINGS TO BE RELEASED JANUARY 28 – 29
Source: Refinitiv, Bloomberg, Justin McQueen
NASDAQ 100 FORECAST
OUTLOOK: NEUTRAL
The Nasdaq 100 will also face implications from upcoming reports as technology giants Apple, Facebook, Microsoft and Tesla are set to report next week. They are joined by a plethora of other Nasdaq members, but the four companies alone account for nearly 30% of the entire index. A strong quarter from Netflix offered a kickstart to sentiment surrounding tech earnings, but the behemoths will have to deliver on lofty expectations if risk appetite is to remain intact.
Disclosure: See the full disclosure for DailyFX here.