Don't Panic – It's Just A Correction For Risk Assets
The immortal words of Lance Corporal Jones from a wonderful UK sitcom called Dad's Army come to mind today, 'Don't panic, don't panic Mr. Mainwaring', a sentiment which I echo as we consider the daily charts of the US indices following the washout from the FOMC. Because that's what it is an opportunity for the market makers to trigger panic selling before they move in to buy cheap in preparation for the next leg up. So how can I be so confident that this is simply a snap move lower and one which will be corrected? Well, let's consider the daily charts for all three principle indices namely the ES, NQ & YM in turn.
(Click on image to enlarge)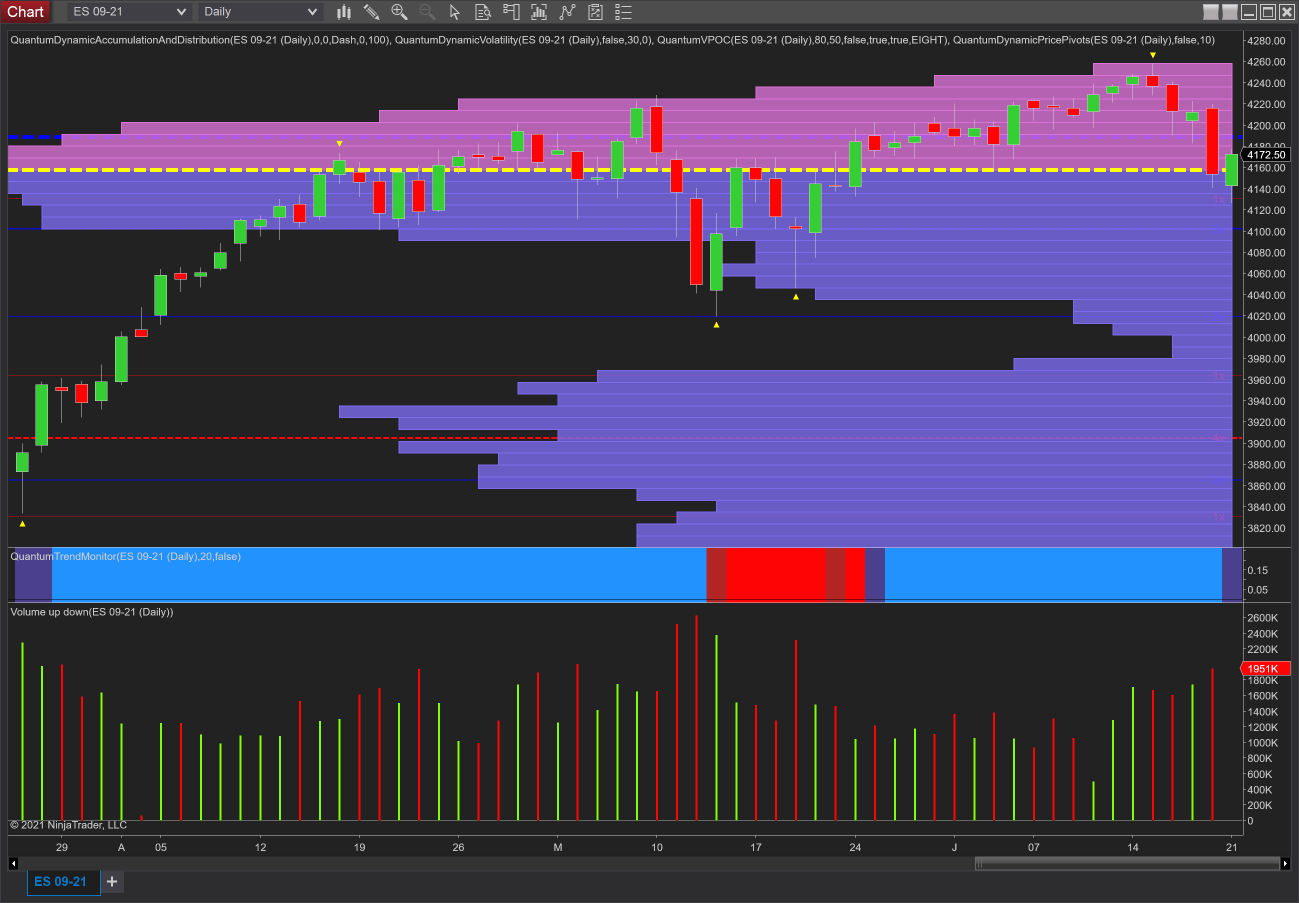 If we start with the ES, the chart is hardly symptomatic of a major crash. Yes, we had a widespread down candle on Friday, but note the volume which is high but extreme most certainly not, and compared with the preceding days, only mildly above-average. In addition, the price action has simply returned to test the VPOC at 4,160. So here we can expect to see congestion around the VPOC over the next few days before any bullish sentiment returns.
(Click on image to enlarge)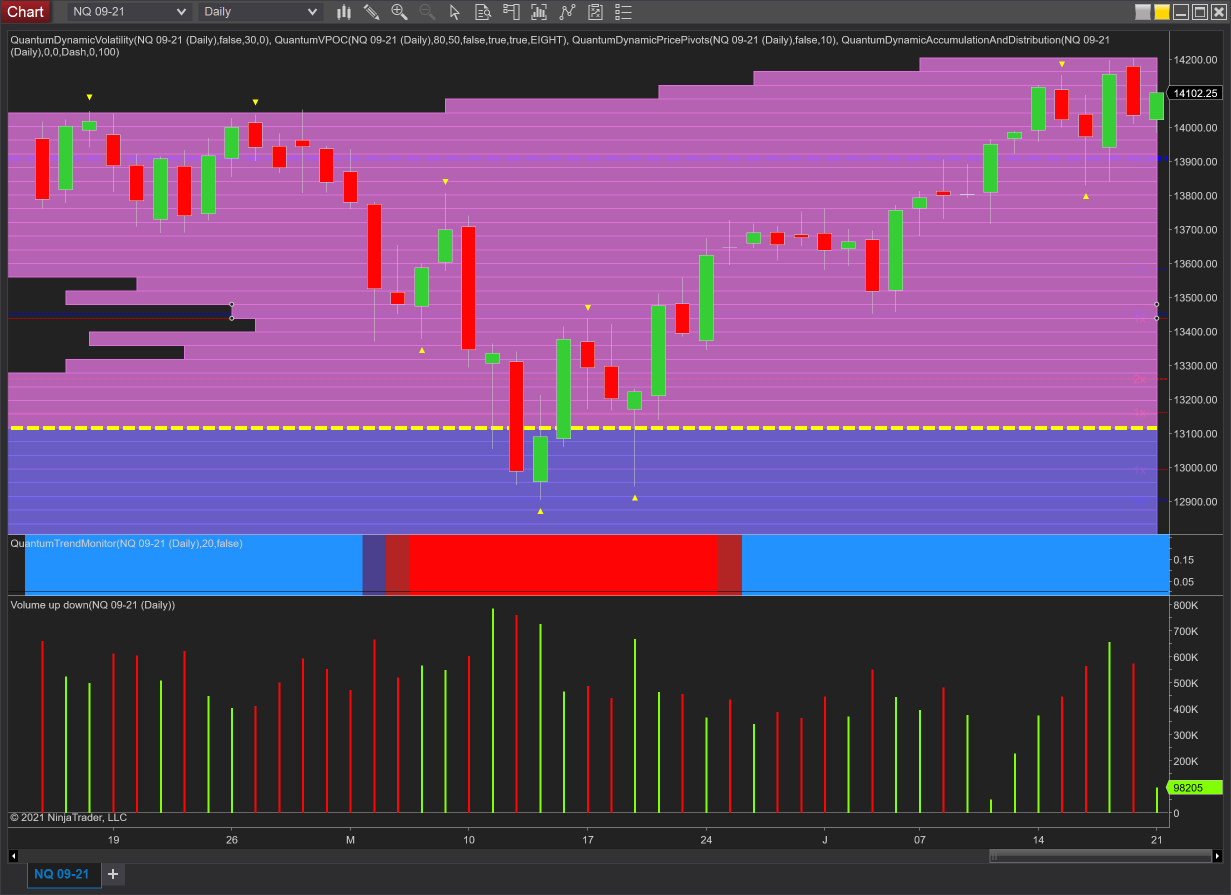 Next, we move to the NQ, and a similar story here with the index only suffering what could best be described as a minor correction with bullish sentiment returning in early trading as the ripples of the FOMC statement subside, so expect to see the NQ to pick up from where it left off and continue to remain firmly bullish and move through 14,200 in due course.
(Click on image to enlarge)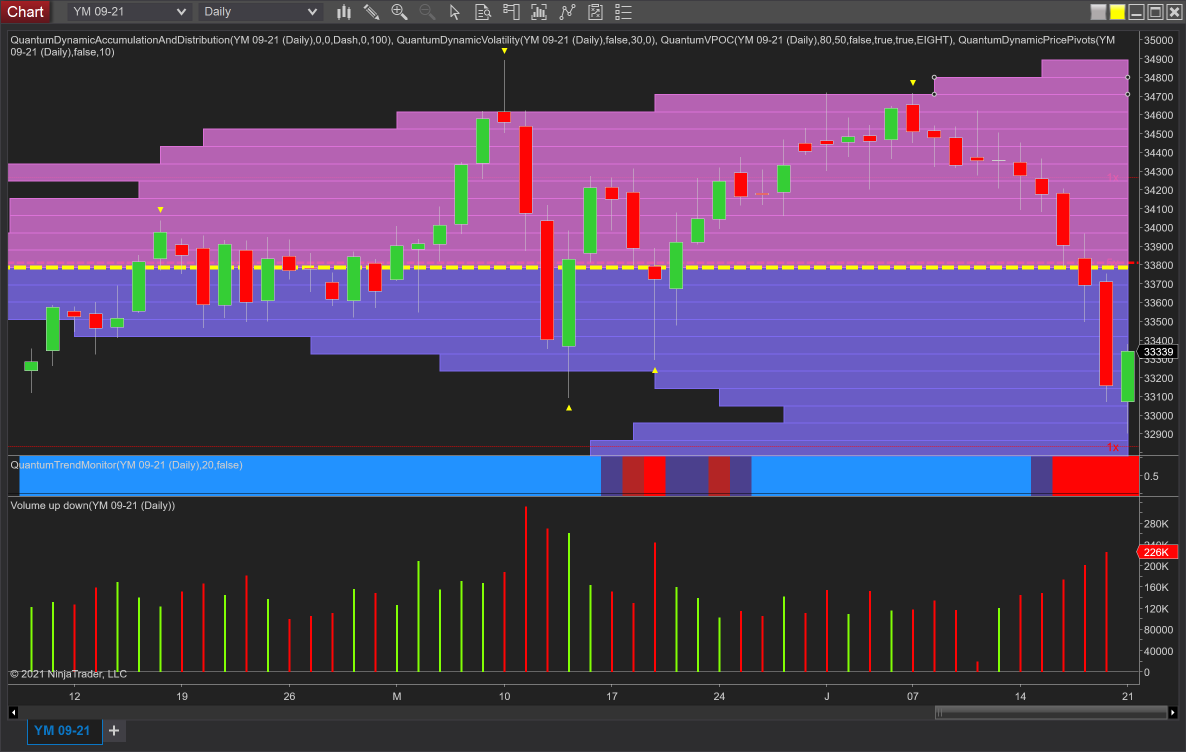 Lastly. to the YM which of the three is the only one that presents what we might expect, namely with a perfect price waterfall on widening spreads and rising volume. But again, note the volumes of last week when compared with the equivalent down candles in May. The volumes are lower and tell us this is a shakeout and not a market top. That will come in due course, and this is not the big short which many have been suggesting. We can also find validation for this view in the forex market where sentiment in the yen has reversed having been bought heavily in the Asia Pac session as the Nikkei followed Wall Street and dropped over 3% before rallying just as strongly at Eurex and the London open. Heavy yen selling tells us risk assets are recovering at the start of the new trading week. Finally, if this truly were the start of a major reversal because of inflation fears, why did gold fall so sharply? However, I do accept strong moves in the USD did also play a part. Interest rates will no doubt rise at some point but such an overreaction to what may or may not happen 18 months down the line should make anyone extremely suspicious of anything that is being said. Finally, be aware Fed Members are out in force this week including Jay Powell himself and it will interesting to see the extent to which Wednesday's FOMC narrative continues or not.
Disclaimer: Futures, stocks, and spot currency trading have large potential rewards, but also large potential risk. You must be aware of the risks and be willing to accept them in order to invest in ...
more