Don't Chase Growth With This Overvalued Tech Stock
Investors love a growth story, especially one that ties into common buzzwords such as "cloud" or the numerous different iterations of "as-a-service." This high-flying company is seeing declining revenue growth rates but rising costs amidst an industry filled with competition. However, its stock price implies it will drastically improve margins while also growing revenue faster than consensus and management's own expectations. Avoid MongoDB (MDB: $226/share), which is this week's Danger Zone pick.
MongoDB's Profitless Revenue Growth
From fiscal 2018-2020, MongoDB has grown revenue by an impressive 65% compounded annually. Meanwhile, core earnings[1] declined from -$96 million to -$158 million over the same time, per Figure 1. Core earnings have fallen even further, to -$178 million, over the trailing-twelve-month (TTM) period.
Figure 1: MDB's Revenue Growth Vs. Core Earnings Decline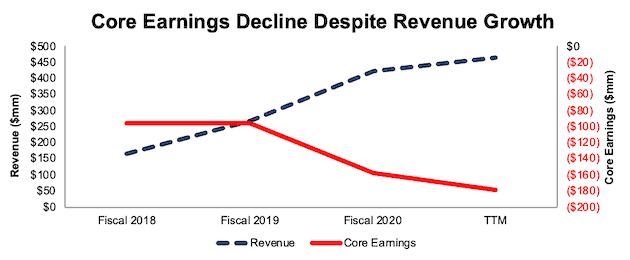 Sources: New Constructs, LLC and company filings.
MongoDB's declining profits lead to significant free cash flow (FCF) burn in each of the past two years and the TTM period. In fiscal 2019 and 2020, MongoDB burned a cumulative $980 million in FCF. The firm's -$698 million FCF over the TTM period equates to a -5% FCF yield, which is significantly lower than the Technology sector average of 1%. MongoDB could sustain its TTM cash burn for just under a year and a half before needing additional capital. With significant competition, MongoDB may be hard-pressed to reverse its cash burn as it must continually invest in its product to remain competitive with much larger tech giants.
Non-GAAP Metrics Further Mislead Investors
As with many unprofitable companies, MongoDB would rather investors focus on flawed non-GAAP metrics such as non-GAAP gross profit, non-GAAP loss from operations, and non-GAAP net loss. In a recent Harvard Business School and MIT Sloan paper, experts show that "Street Earnings are not only an incomplete reflection of firms' non-operating earnings but also reflect managerial biases". If you think non-GAAP metrics are any better, you're mistaken.
Among the items, MongoDB excludes when calculating its non-GAAP metrics are stock-based compensation expense, acquisition costs, amortization of acquired intangible assets, and more.
In the TTM period, MongoDB removed $92 million (20% of revenue) in stock-based compensation when calculating its non-GAAP net loss. Per Figure 2, MongoDB's TTM non-GAAP net loss of $51 million is well above GAAP net income of -$196 million. Economic earnings, which account for the unusual items on the income statement and changes to the balance sheet, are much lower, at -$210 million, and trending in the opposite direction of non-GAAP net losses.
Figure 2: MDB's Non-GAAP Net Loss & GAAP Net Income Are Misleading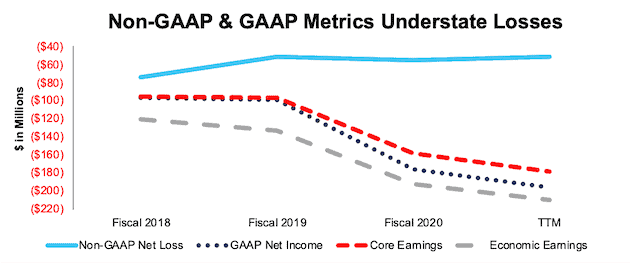 Sources: New Constructs, LLC and company filings.
Freemium Offering Is Not Converting Enough Paying Customers
To encourage usage, familiarity, and adoption of its platform, MongoDB provides its Community Server as a freemium offering. The idea behind any freemium offering is to attract potential customers to the platform and then upsell them to a paid version that offers more robust features and capabilities. However, MongoDB's freemium offering is not achieving its intended results.
The firm notes in its fiscal 1Q21 10-Q that its Community Server has been downloaded over 110 million times since February 2009 and over 40 million times in the last 12 months. However, MDB's customer count pales in comparison to the number of downloads. At the end of fiscal 1Q21 (period ended April 30, 2020), MDB notes it had over 18,400 customers, which was up from 14,200 in fiscal 1Q20. In other words, while Community Server was downloaded over 40 million times, MongoDB added just 4,200 new customers, a conversion rate of just 0.01%.
Native Cloud Offerings Present Obstacles to Growth
Research from Gartner notes the majority of database management growth is in the cloud, on cloud platforms such as Amazon Web Services (AWS) and Microsoft (MSFT). These two firms, with their vast resources, also represent a significant portion of the entire market. Gartner estimates that AWS and Microsoft accounted for 76% of the growth in the database management system market in 2018.
Many cloud platforms have their own database management software (such as Microsoft SQL server) which is directly integrated with Microsoft's cloud offering. Furthermore, competing firms offer additional services, such as customer relationship management platforms that help build out an entire suite of enterprise software. Most importantly, these competitors can offer their products at low, or even no cost, to enhance the overall value of the cloud platform. Competing firms can also bundle the other services to create a comprehensive solution that MongoDB cannot, as they're simply one piece of an enterprise's software needs.
Lagging Profitability Limits Ability to Improve Profitability
Not only does MongoDB compete with large tech firms with ample resources and vast product offerings (such as AWS Dynamo DB, Microsoft Azure Cosmos DB, or Oracle NoSQL Database), the non-relational database market is filled with other competitors. Alternatives include Couchbase, Casandra, PostgreSQL, IBM Cloudant, RavenDB, Altibase, and many more.
DB-Engine, which measures the popularity of database management platforms ranks MongoDB fifth, behind Oracle, MySQL (owned by Oracle), Microsoft SQL Server, and PostgreSQL (a free and open-source database management system).
Below, we analyze MongoDB's profitability vs. its listed competitors (in its fiscal 2020 10-K), Microsoft, Oracle (ORCL), Alphabet (GOOGL), International Business Machines (IBM), Amazon.com (AMZN) and the market-cap-weighted average of the Software firms under coverage. Per Figure 3, MongoDB's -34% NOPAT margin is well below the industry market-cap-weighted average of 18% and even further below each of its direct competitor's margins.
Figure 3: MDB's NOPAT Margin Vs. Competition & Industry Peers

Sources: New Constructs, LLC and company filings.
Disclosure: David Trainer, Kyle Guske II, and Matt Shuler receive no compensation to write about any specific stock, style, or theme.