Don't Buy Walmart
In 2017, "Bloomberg reports Walmart's top suppliers' OTIF scores were as low as 10%."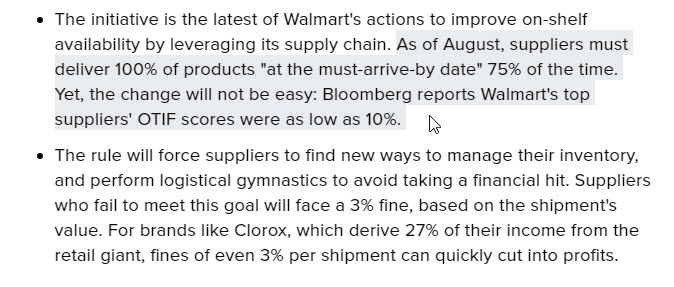 This has been going on for a year now, but these are the ins and outs of how Walmart is squeezing out cost from every corner which Wall Street does not understand.
Wholefoods Isn't Taking Over the World
It's also been a little over a year since Amazon decided to buy Wholefoods, and we haven't seen Amazon take over the retail space like many feared.
While Amazon has access to a lot of offline data and shopping patterns through the Wholefoods stores, there has yet to be a game-changing shift with the acquisition.
How will it affect Walmart?
Not much.
I'm most likely drinking too much kool-aid, but I don't see any retailer taking over Walmart any time soon. In the supply chain example above, Walmart is best of breed.
If Amazon is the next best matchup, they have a lot of ground to cover before they make any serious dent to Walmart.
Should I Buy, Hold or Sell Walmart?
Walmart hasn't been a great investment this year.
(Click on image to enlarge)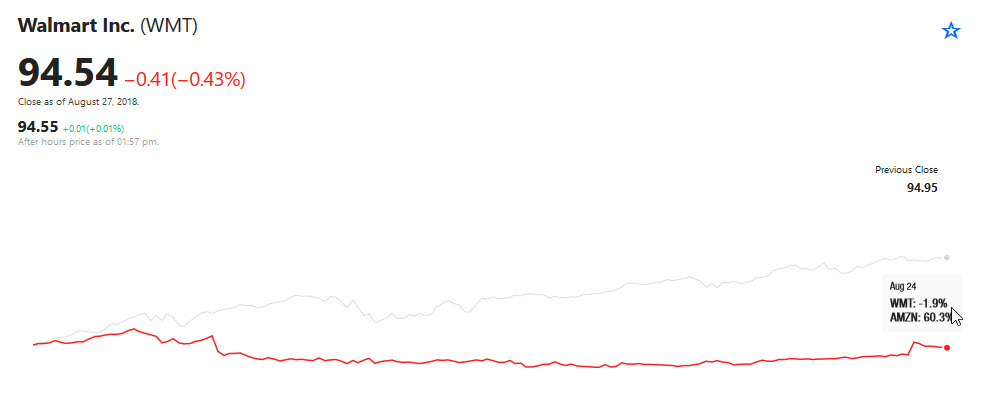 It's -1.9% on the year vs Amazon's return of 60.3% and the S&P of 8%. As the stock price comparison will surely come up, let's get that out of the way.
Walmart dropped this year due to concerns of slowing growth. Analysts wanted to see faster growth in the ecommerce segment and make 30+% growth the norm.
While Walmart is certainly investing heavily into expanding online sales, their main driver still comes through brick and mortar with a 4.5% increase in SSS comps. You may not go to Walmart at all, but the numbers show that a huge population does and their earnings release prove it.
But Walmart is not cheap anymore.
Frankly, I don't believe that any investor has an edge with Walmart. The only edge you can get with a big company like Walmart is by knowing what price you should buy or sell.