DocuSign: An Antifragile Stock In Times Of Coronavirus
Risk And Reward Going Forward
DocuSign stock has crushed the market during the recent selloff, the stock is up by over 19.15% while the S&P 500 is down by -18.7% on a year-to-date basis. This makes a lot of sense since the company is positioned to not only survive the recession but even to accelerate its growth and emerge from the crisis in a stronger-than-ever shape.
DocuSign is currently offering an interesting trade-off for investors. If the coronavirus crisis gets deeper and markets keep going down in the near term, then DocuSign will probably remain as one of the most defensive plays in such an environment, and the stock will continue outperforming the market by a wide margin.
(Click on image to enlarge)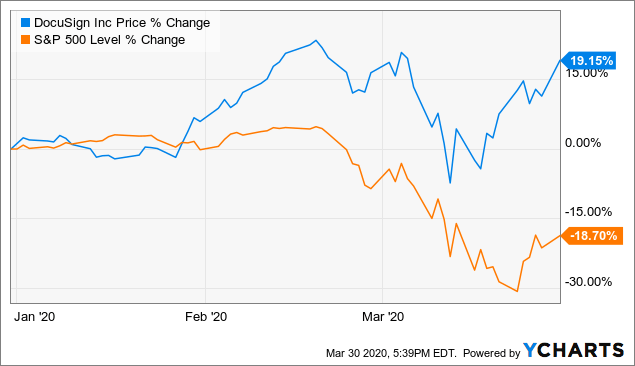 Data by Ycharts
Alternatively, if the coronavirus situation evolves for the better in the short term and the markets make a big recovery from current levels, maybe DocuSign will not rise as much as other beaten-down stocks, but chances are that DocuSign will still deliver solid returns in a bull market environment.
In simple terms, DocuSign can be expected to outperform the market by a wide margin in a sustained bear market. If the markets start rising in a V-shaped recovery, the stock will probably underperform in comparison to cheaper names, but it will most likely still deliver positive returns in a bullish stock market environment.
The main drawback is valuation. While the rest of the market has gotten much cheaper in terms of valuation over recent weeks, DocuSign is still trading at valuation levels that are not particularly low. The stock trades at a forward price to sales ratio around 12; this is in line with valuation levels for other successful players in the software industry, but hardly a bargain in comparison to the broad market.
The average price target among the analysts following the stock is currently 86.3, which is roughly in line with current prices. In other words, we could say that DocuSign is fairly valued, but not particularly undervalued. If you are looking for massively undervalued opportunities in this market, then DocuSign is not the ideal candidate to consider.
Disclosure: I/we have no positions in any stocks mentioned, but may initiate a long position in DOCU over the next 72 hours.
Disclaimer: I wrote this article myself, and it expresses my own ...
more