DocuSign: An Antifragile Stock In Times Of Coronavirus
DocuSign typically puts a foot in the door with electronic signatures, and over time it cross-sells its broader document management solutions. The company has a good selling argument, since it not only saves costs and increases efficiencies, it also reduces security risks and improves the customer experience.
Companies are eagerly looking to save costs and to adapt to the new social distancing environment nowadays, and DocuSign has a lot to offer in this area.
Growing At Full Speed
DocuSign reported earnings on March 12, and the business is firing on all cylinders according to the numbers. Revenue during the period amounted to $274.9 million, an increase of 38% year over year and surpassing Wall Street expectations. Fourth-quarter billings rose 40% to $367 million and billings for the full year increased 38% to $1.1 billion.
(Click on image to enlarge)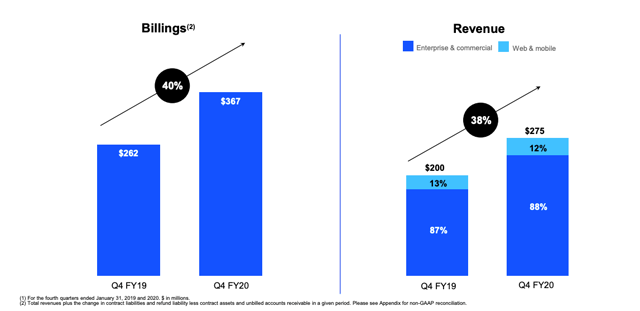 Source: DocuSign
DocuSign added almost 27,000 new customers in the quarter; including nearly 6,000 direct customers, this represents a 33% increase in total customers year over year. The company ended the quarter with 589,000 customers worldwide, and the dollar net retention rate came in at 117%.
(Click on image to enlarge)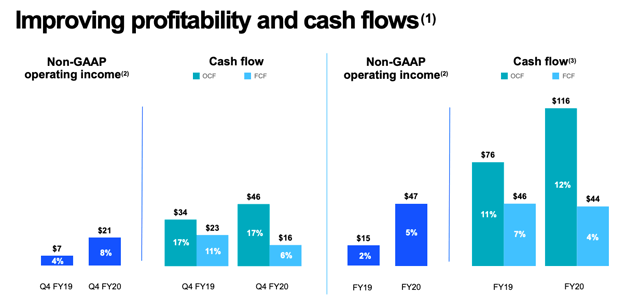 Source: DocuSign
High growth software companies typically operate at a loss due to the highly demanding investments needed to support growth. But DocuSign is already benefitting from expanding profitability metrics due to scale and operating leverage. Operating cash flow increased 33% year over year to $46 million in the fourth quarter compared to $34 million in the same quarter a year ago.
(Click on image to enlarge)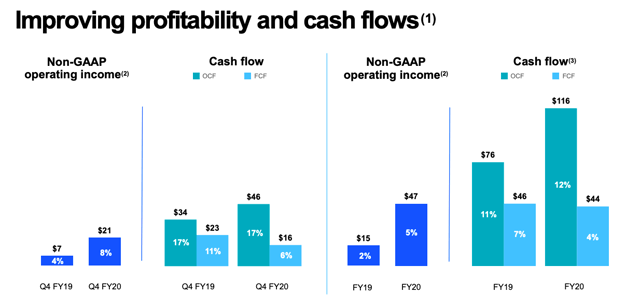 Source: DocuSign
Management is quite optimistic about the long-term growth opportunities and the company's position to profit from growing demand for all kinds of document digitalization and cloud-based agreement services.
From the conference call:
We see agreements increasingly integrated with the cloud software suites like sales, service, marketing, HR and finance. Our belief is that organizations will need an Agreement Cloud to act as a platform of record for agreements and agreement processes, which will be connected to the other clouds. For example, integrating with the HR system for offer letters or the CRM system for sales contracts.

As we have said, we believe this represents the next big cloud opportunity. Over the past fiscal year, we have broadened our product and service offerings to cover every stage of the agreement process.
Disclosure: I/we have no positions in any stocks mentioned, but may initiate a long position in DOCU over the next 72 hours.
Disclaimer: I wrote this article myself, and it expresses my own ...
more