Did Trump Just Put The September Market "Crash Down" In Play?
Until just about 11 am the market was poised on a knife's edge trading right on top of the dealer gamma breakeven level. That ended with a bang when Trump unveiled that the US will retaliate to China's Friday tariff increase "this afternoon" and ordered companies to find "an alternative to China", in what was clearly a dramatic escalation in the trade war (and potentially currency war, should Trump announce the US will intervene in the FX market to devalue the dollar against the yuan and/or other currencies). The news of Trump's escalation and mystery afternoon announcement sent markets tumbling...
(Click on image to enlarge)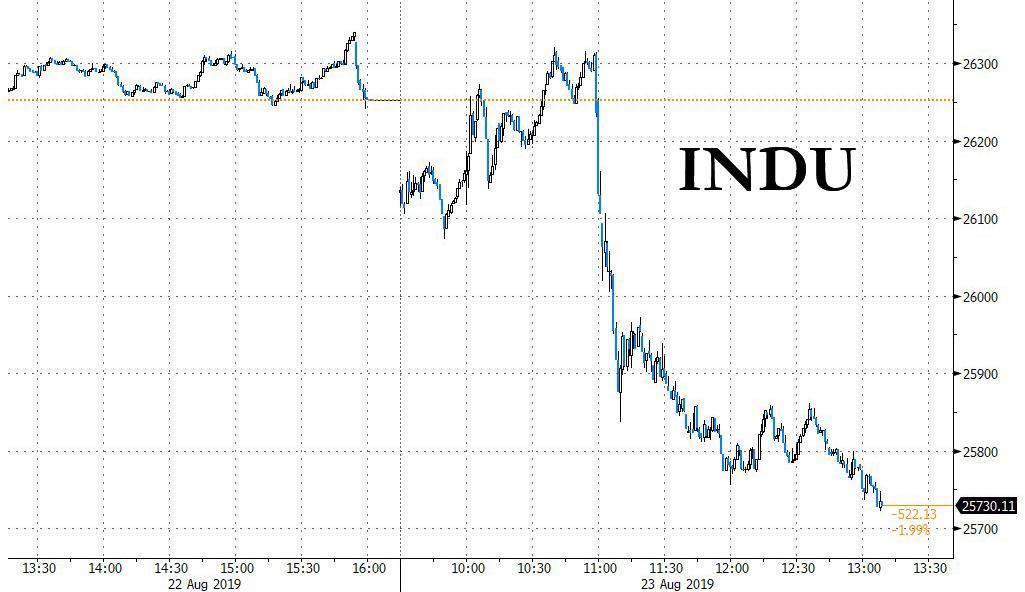 ... and sent the S&P sharply into "short gamma" territory, where selling begets more selling.
(Click on image to enlarge)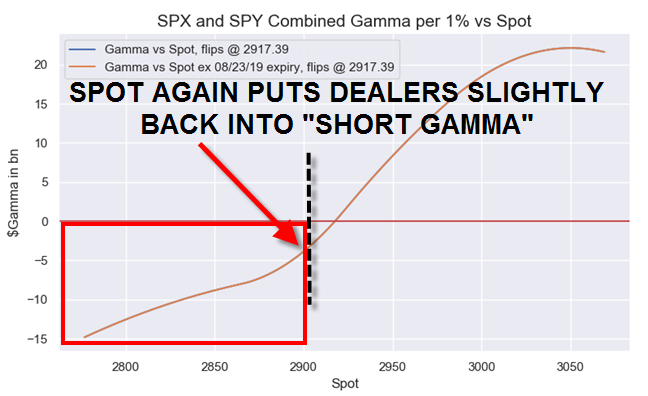 The sharp drop in the market today, however, could represent a double whammy because not only does it send stocks lower ahead of a traditionally volatile September, but it pushes risk into levels where in addition to "gamma gravity" kicking in, various quant and systemic investors are once again forced to sell, creating a feedback loop where the lower stocks drop, the more forced selling will be unleashed, etc.
It is this pernicious feedback loop that framed this morning's note by Nomura's Charlie McElligott who after warning earlier this week that markets are facing an especially precarious September, warned that what happens today in markets will likely reverberate for quite some time. In retrospect, his warning could not have been more timely.
As the Nomura quant writes, "with regards to Equities and the VIX Dealer "Gamma" update, Dealers post-expiry were obviously in a much "cleaner" place and now "long Delta", something we observed after the "Short Gamma" rip into a VIX options expiry "we tend to see Deltas remain "sticky" for approx. a week or so thereafter."
But while McElligott correctly called the recent technical "melt-up", he is now growing concerned that the pieces are falling-into-place for a potential "Equities pullback window" during the month of September, particularly with a cacophony of event- and flow- risks mid-month onward which are "clustering", among which:
Disclosure: Copyright ©2009-2019 ZeroHedge.com/ABC Media, LTD; All Rights Reserved. Zero Hedge is intended for Mature Audiences. Familiarize yourself with our legal and use policies every ...
more