Dicks Sporting Goods: Just Too Much Competition
Quick Summary
Dick's Sporting Goods (DKS) is a chain of "big box" sporting equipment, apparel, footwear, and accessories retail stores. The company operates about 850 locations in the U.S., including some smaller specialty stores such as Golf Galaxy and Field & Stream. Sporting equipment is its largest sales category at 42%, followed by apparel at 35%, and footwear at 21%. Dick's also operates a substantial integrated e-commerce business which accounts for nearly 16% of sales. Dick's sells equipment and apparel from large national brands such as Nike, Under Armour, The North Face, Adidas, and others.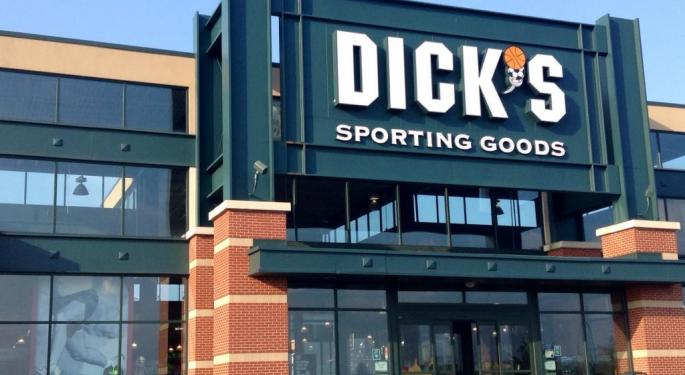 Does The Company Have Recurring And/Or Rising Revenues?
NO. Despite significant store expansion (adding about 60 stores in the past 3 years), and the failure of major direct competitors like Sports Authority, Dick's has only managed to generate about 3% average annual growth since 2017. Same-store sales have been inconsistent, but have averaged out at about 0%. E-commerce has been a bright spot, rising to 16% of sales from just 10% 3 years ago, but this has not been enough to offset store weakness. There isn't a whole lot of growth potential, either. Sporting goods at large is not a growth industry, averaging just 1% annual growth over the past 5 years. Dick's has recently cut back on store expansion plans, actually reducing net locations in 2019. Substantial competition, supplier desire to sell through first-party channels, and COVID-19 all represent big ongoing challenges to Dick's store-based retail strategy. Additionally, discretionary retail sales are in no way recurring - they are one-off purchases that customers can acquire at dozens of different locations, both online and physical.
Does The Company Have Durable Competitive Advantages?
NO. Store retail is an extremely difficult business to build competitive advantages in. Dick's is a standard specialty retailer, differentiated solely based on product selection available in their large stores. Essentially all of its products are available at numerous competing retailers, and suppliers like Nike, Adidas, and Under Armour have built large online presences that drive in excess of 30% of their sales. Competition is increasing, as general retailers like Kohl's and even Amazon move increasingly into activewear. Dick's has no pricing power (they offer a price match guarantee), and no dominant market share to make them a preferred distributor (less than 10% share in all categories). This is clearly a "no moat" company.
Disclaimer: The content is provided by Alexander Online Properties LLC (AOP LLC) for informational purposes only. The material should not be considered as investment advice or used as the basis ...
more