Coronavirus Update: Which Popular Stocks Look To Cut Dividends Soon?
The outbreak of coronavirus in the U.S. has led to the shutdown of a large portion of the U.S. economy. For income-focused investors, the big question is whether dividend-paying companies will sustain or cut dividends.
For industries that are shut down due to government restrictions, a big question is how much federal money they receive and how fast. These are businesses where conserving cash until there is a return to normal business conditions.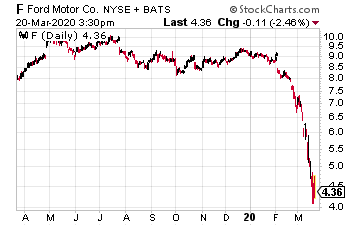 I expect business conditions to return to normal in two to three calendar quarters, so dividend cuts or suspensions should be temporary. Ford Motor Company (F) is a good example. The company is shutting down assembly plants and has raised $15.4 billion in cash from its existing lines of credit. I was going to include Ford as a company where I expect a dividend reduction. The company beat me to the punch, and on March 19th, Ford announced it suspended its attractive dividend.
Another scenario involves companies where the business continues to produce enough cash flow to support the dividend. Still, the share prices have fallen so far that dividend yields look, frankly, crazy.
Consider EnLink Midstream (ENLC) which will sustain revenue and cash flow to cover the $0.75 per annual share dividend handily. Yet the stock price is trading for less than $1.50, giving a 50% dividend yield. I could see the ENLC Board of Directors deciding to reduce the dividend and use the cash to pay down debt. EnLink is an extreme case, but there are lots of companies with what should be stable dividends priced to yield 20%, 30%, or higher.
Here are three stocks where I expect to announce dividend reductions or suspensions soon.
It's easy to understand that the airlines are in trouble. They will very likely get billions in financial help from the federal government, but I don't know if the Feds will also let them continue to pay dividends.
Delta Airlines (DAL) has increased its dividend for six straight years.
Disclaimer: The information contained in this article is neither an offer nor a recommendation to buy or sell any security, options on equities, or cryptocurrency. Investors Alley Corp. and its ...
more