Coronavirus: How The Pandemic Could Play Out In 2021
In time, travel will hopefully become more straightforward, though airlines might start requiring vaccination certificates. Although some countries require vaccination against yellow fever for entry, requiring immunity passports for COVID-19 is likely to prove contentious.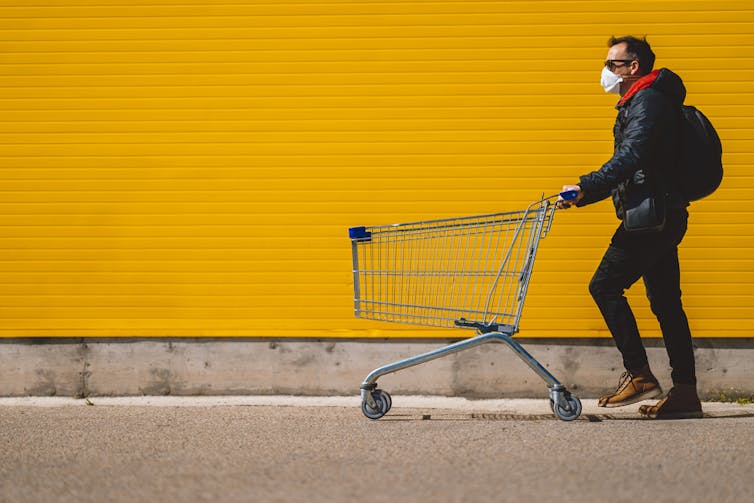 As the pandemic recedes, some habits might be harder to shift. Zivica Kerkez/Shutterstock
Mask wearing might become a social habit globally as it is now in Asia – for example when somebody is not feeling well or is concerned for their health.
Looking further ahead
Can vaccination lead to eradication of the virus? We don't yet know how long vaccine-based immunity lasts – and long-term immunity will be key. Fully eradicating the virus will be very difficult and will require a global effort.
While we've got close to eradicating polio, smallpox remains the only human disease we've fully stamped out, and this took almost 200 years. Measles, for example, although nearly eradicated in many countries, keeps coming back.
Some vaccines, like measles, give nearly lifelong protection, whereas others need to be repeated, like tetanus. If COVID-19 mutates regularly and significantly – and its potential to do so has just been demonstrated – we may need to take new vaccines periodically, like we do for flu. In the long term, we would also need to vaccinate children to maintain herd immunity.
The social and economic effects of the pandemic will probably be long-lasting too. Perhaps life will never return to what it was before. But it is up to us to make it safer by being better prepared for future pandemics.

Adam Kleczkowski, Professor of Mathematics and Statistics, University of Strathclyde
Read the original article.