Consumer Confidence Was Impacted By This Coming Event
There was a modest decline in the 2nd week in September in flights and consumer spending. You can't look too much into non-seasonally adjusted data because the first week of the month was helped by the Labor Day holiday. Some people flew more in early September; then the yearly growth went back to its prior range. That's to be expected until fast testing becomes universally available later this fall.
As you can see from the chart below, Chase card spending was down 6.5% in the week of September 13th which is a little worse than the prior week. Usually, we don't look at this type of data because it's noisy. Noise becomes less important when there are massive shifts in spending like we saw after the virus hit. At that point, data from the prior month was too late in detecting changes. We might be transitioning back to business as usual soon (in terms of what data we look at). That being said, as long as you know seasonality isn't included in the chart below, it's fine to look at.
(Click on image to enlarge)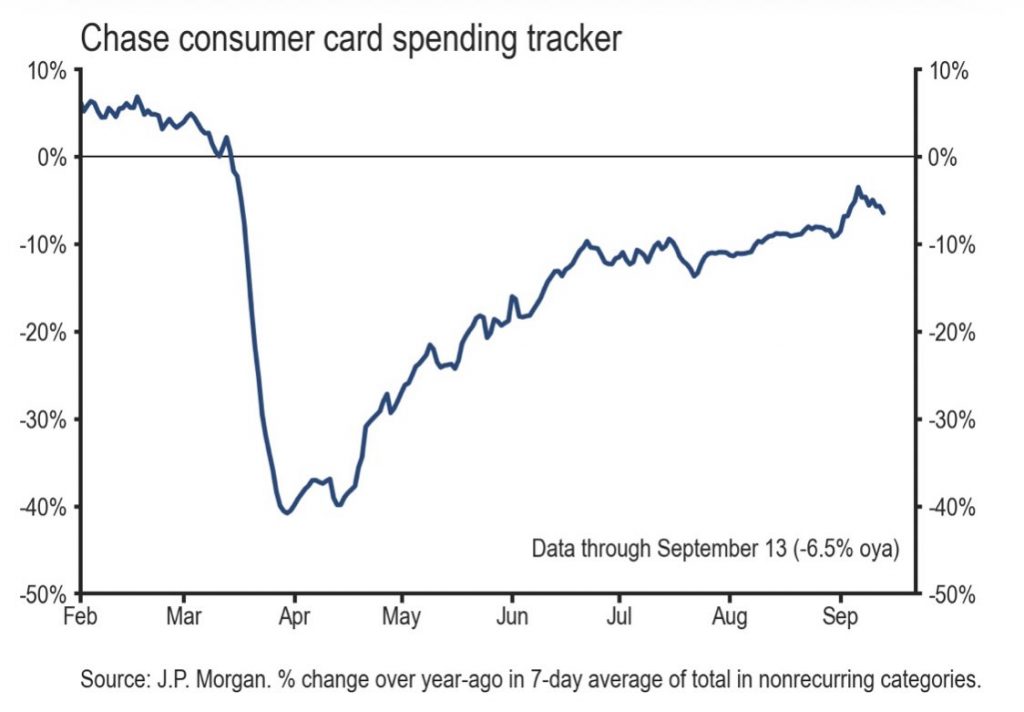 Source: Chase via Twitter @CarlQuintanilla
We think some investment banks are biased towards coming up with a negative narrative on the economy when they say the data is rolling over. They want to come up with a reason why the stock market is falling. We can tell you for sure that the stock market didn't fall because people spent less money in the week after Labor Day like they always do. This chart includes yearly growth, but Labor Day was 5 days later this year than last year.
Consumer Confidence Improves
Going against the chase spending data and supporting the solid Bloomberg consumer comfort reading, the University of Michigan consumer sentiment index rose from 74.1 to 78.1 which is still a 15.3% decline from last year. Yearly declines are still to be expected. It's interesting how much lower confidence is in relation to retail sales which has more than fully recovered its recession losses. That differential is related to the fiscal stimulus. Getting money from the government doesn't inspire as much confidence as jobs coming back and businesses reopening do. As you can see from the chart below, the current conditions index rose from 82.9 to 87.5. That's important because the expectations index was impacted by politics with the election in a couple months.
Disclaimer: The content on this site is for general informational and entertainment purposes only and should not be construed as financial advice. You agree that any decision you make will be ...
more