Consolidated Water Will Continue To Face A Rising Tide In 2017
At first glance, it's hard not to compare the 10-year Consolidated Water Co. (Nasdaq:CWCO) chart to a wave that crested in 2007 above $33 before slamming downward to the mid $10 mark today. With shares losing 2/3 of their value during the aforementioned period, it doesn't look like relief will be coming anytime soon.
CWCO's business model makes the company's profitability reliant on uncertain government contracts while increased competition and the company's Tortola problem aren't helping matters.
We recommend that investors get short shares of CWCO ahead of the expiration of the company's contract with the BVI government in March of 2017.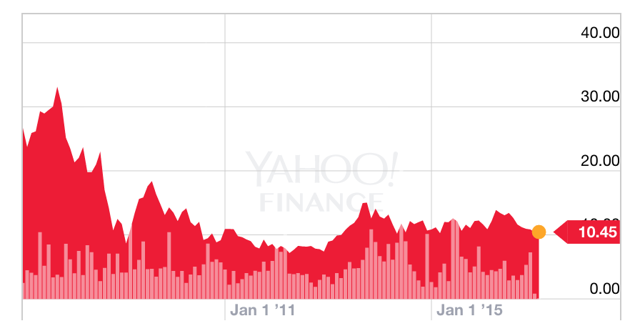 The CWCO Business Model is Troubling
Consolidated Water Co. was founded in 1973 as a private water utility in Grand Cayman. While investing in water companies has become a somewhat trendy theme in the last 10 years - just do a quick search for water ETFs - CWCO was ahead of its time. The company focuses on delivering potable water to areas where naturally occurring supplies are virtually non-existent. The company does this by operating desalination plants that use reverse osmosis technology.
Sounds good so far, right? Here's where we hit a snag: To operate desalination plants, the company obviously needs access to salt water. In CWCO's case, the only access that it has to seawater is via government contracts, licenses and agreements in countries and territories where the plants operate.
So, while the majority of other water utilities utilize other methods like reservoirs, wells, and the treatment of groundwater, CWCO is 100% reliant on the desalination plants. This becomes a major risk - and a major problem - when a territory like, say, Tortola (see below) decides to pump the breaks, turn to rivals for lower prices, and decides to renegotiate your contract and access at a much lower rate than you've been collecting.
Another water-as-a-service investment in trouble: AquaVenture
Disclosure: I am/we are short CWCO, WAAS.
Disclaimer: I wrote this article myself, and it expresses my own opinions. I ...
more