Comcast Stock Gains On Q2 Earnings Beat, Net Customer Addons, NBCUniversal Performance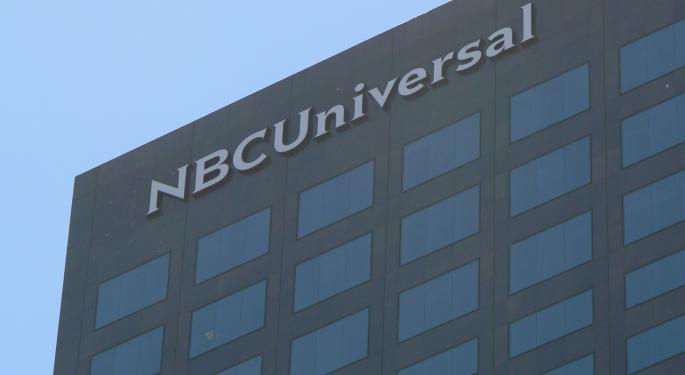 Comcast Corp (CMCSA) reported second-quarter FY21 revenue growth of 20.4% year-on-year to $28.5 billion, beating the analyst consensus of $27.2 billion.
Revenue for Cable Communications rose 10.9% Y/Y to $16.0 billion, driven by increases in broadband, advertising, wireless, business services, video, and other revenue, partially offset by a decrease in voice revenue.
Customer Relationships increased by 294,000 to 33.8 million. Broadband customer net additions were 354,000. It added 280,000 wireless lines in Q2.
Revenue for NBCUniversal increased 39.2% Y/Y to $8.0 billion, Media increased 25.7% Y/Y to $5.1 billion, reflecting higher advertising revenue, Studios increased 8.4% Y/Y to $2.2 billion, primarily reflecting higher theatrical revenue.
Theme Parks' revenue increased 705% Y/Y to $1.1 billion, reflecting improved operating conditions. Revenue for Sky increased 28.0% Y/Y to $5.2 billion. Total Customer Relationships decreased by 248,000 to 23.2 million.
Adjusted net income increased 24.3% Y/Y to $3.9 billion, translating to an adjusted EPS of $0.84, beating the consensus of $0.66. Adjusted EBITDA margin contracted 215 bps to 31.3%.
Comcast generated $7.6 billion in operating cash flow and held $12.4 billion n cash and equivalents. It paid dividends totaling $1.2 billion and repurchased shares for $500 million.
Cable Communications' capital expenditures increased 16.8% to $1.7 billion, NBCUniversal's capital expenditures decreased 52.0% to $182 million, and Sky's capital expenditures decreased 14.4% to $184 million.
Price action: CMCSA shares traded higher by 1.52% at $58.86 in the premarket session on the last check Thursday.
© 2021 Benzinga.com. Benzinga does not provide investment advice. All rights reserved.