Citizens Community Bancorp - Stock Of The Day
Summary
100% technical buy signal.
11 new highs and up 17.58% in the last month.
142.50% gain in the last year.
The Barchart Chart of the Day belongs to the Wisconsin-based regional bank Citizens Community Bancorp (Nasdaq: CZWI). I found the stock by using Barchart's powerful screening tools to find the stocks with the highest Weighted Alpha and technical buy signals. After I sorted for the most frequent number of new highs in the last month, I used the Flipchart feature to review the charts for consistent prices appreciation. Since the Trend Spotter signaled a buy on 1/12 the stock gained 17.58%.
Citizens Community Bancorp, Inc. operates as a bank holding company for Citizens Community Federal N.A. that provides various traditional community banking services to businesses, agricultural operators, and consumers. The company accepts various deposit products, including demand deposits, savings, and money market accounts, and certificates of deposit. It also offers various loan products comprising commercial real estate, commercial and industrial, agricultural real estate, agricultural operating, and consumer loans; and residential mortgages and home equity lines-of-credit. In addition, the company provides a portfolio of investments, such as mortgage-backed, corporate asset-backed, U.S. Government-sponsored agency, corporate debt, and trust preferred securities. It operates through a network of 25 branch locations in Wisconsin and Minnesota. The company was founded in 1938 and is based in Eau Claire, Wisconsin.
(Click on image to enlarge)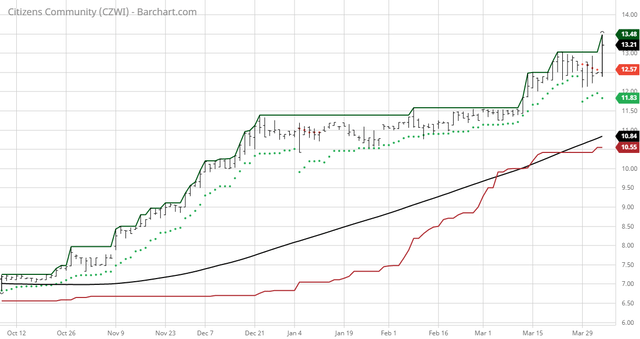 Barchart technical indicators:
100% technical buy signals
115.34+ Weighted Alpha
142.50% gain in the last year
Trend Spotter buy signal
Above its 20, 50 and 100 day moving averages
11 new highs and up 17.58% in the last month
Relative Strength Index 69.99%
Technical support level at 12.48
Recently traded at 13.21 with a 50 day moving average of 11.66
Disclosure: The Barchart Chart of the Day highlights stocks that are experiencing exceptional current price appreciation. They are not intended to be buy recommendations as these stock are ...
more