E

Cannabis Central: Canadian Pot Stocks Rose 3.9% Last Week; American MSOs Were Up 1.1%
Canadian cannabis stocks rose 3.9% on average last week while American MSO stocks showed mixed performances, up 1.1% on average. In all, 4 pot stocks rose more than 10% over that time period while 6 declined 10% or more.
Canada: In the wake of Aurora's (ACB) shares falling 7% last week after releasing dismal fiscal 2020 Q3 results (see exclusive TalkMarkets article here) Canopy (CGC) reported better-than-expected quarterly financial results on Friday (see exclusive TalkMarkets article here) which spurred a modest rally among Canadian cannabis stocks.
HEXO (HEXO), MediPharm (OTCQX: MEDIF), and OrganiGram (OGI) all saw gains in the high teens driven by Canopy's positive results.
Supreme Cannabis (OTCQX: SPRWF) dropped 20% after reporting a second quarter of substantial revenue decline and withdrawing its 2020 guidance.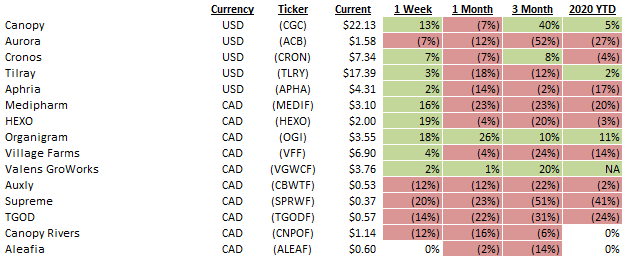 (Source: based on public data)
The U.S. and International: MedMen (OTCQB: MMNFF) dropped another 24% and is now down 71% in the last 3 months while Harvest Health (OTCQX: HRVSF) declined 10% on weak consumer sentiment.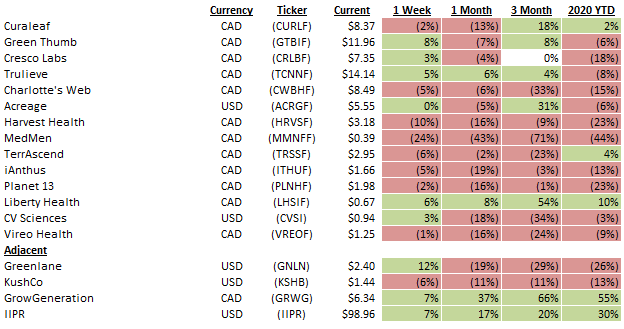 (Source: based on public data)
This article may discuss small-, micro- and nano-cap stocks so do your own careful due diligence. Visit munKNEE.com (A ...
more