E

Cannabis Central: A 1-Week Reversal Does Not A Trend Reversal Make
Last week was one of the best in a long time for pot stocks doing business on both sides of the border (see tables below) but, despite the rally, we think investors shouldn't mistake it as a sign that the downturn is over. After all, a 1-week reversal - even 1-month of positive returns - does not a trend reversal make. This article, however, does identify a few companies that have shown performance improvement over the past 3 months and seem to have turned the corner.
The cannabis market consists of 319 publicly-traded companies of which the vast majority trade for less than a dollar per share so even small changes in the price can have a very large affect on the percentage change that represents. Because of that, this analysis only highlights those stocks that trade above $1/share have been in the green for at least the last 3 months. (Source of data)
Canada: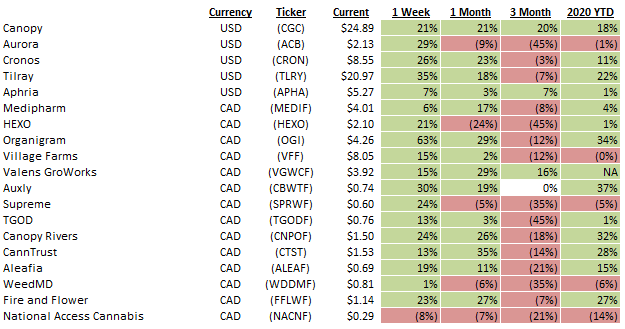 Canopy (TSX: WEED; NYSE: CGC) was up 21% last week despite announcing a delay in its beverage roll-out but continues to improve month after month. The stock is now up 20% in the past 3 months although still down 29% and 44%, respectively, in the past 6 and 12 month periods.
The Valens Company (TSXV: VLNS) was up 15% last week after receiving eligibility from the Depository Trust Company for its shares traded on the OTCQX, under the symbol VLNCF. This will increase visibility and accessibility for the stock and lead to increased trading volume and liquidity in the United States. The stock is now up 16% in the past 3 months and just down 3% from its price 6 months ago.
Aphria (TSX: APHA; NYSE: APHA) was up 7% last week after reporting its most recent quarterly results in which it cut its current fiscal year guidance. The stock is now up 7% in the past 3 months although still down 15% and 23%, respectively, over the past 6 and 12 months periods.
The U.S. and International: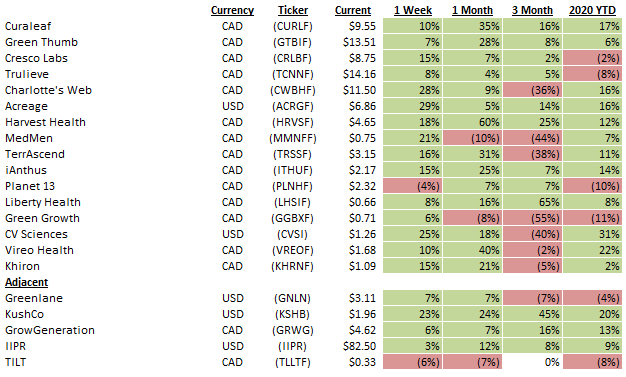 Curaleaf (CSE: CURA; OTCPK: CURLF) gained 10% after providing a positive update on its pending acquisitions.
This article discusses small-, micro- and nano-cap stocks so do your own careful due diligence. Visit munKNEE.com (A ...
more