Buy These Fallen Angels For A Q1 Rebound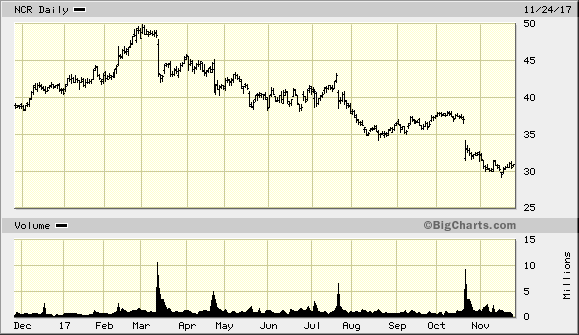 Retail:
Speaking of Amazon, it seems to be an article of faith among some that in the future we'll never need to go anywhere since Amazon will deliver our food, clothing, games, programming and more direct to our doorstep. Somehow I just don't see it. I think people will still want the occasional bit of fresh air, socializing with others and actually touching some of the things they buy. Bed Bath & Beyond (BBBY) might just benefit from meandering shoppers in their retail stores. (Or AMZN will buy them in order to have a central place shoppers can touch the product and still have it delivered in bulk.) We need to remember that BBBY isn't just one store; they also own Cost Plus World Market, Christmas Tree Shops, bye Bye Baby, Linen Holdings, Chef Central and a whole bunch of online specialty stores themselves. The stock is down 55% this year based on the fact that they are brick-and-mortar. Sorry, Charlie, brick-and-mortar doesn't mean peel-and-fade. It just means you have to have great products, low debt, a strong balance sheet and an innovative approach to marketing. Oh, by the way, BBBY has a current Price/ Earnings Ratio of 5.3.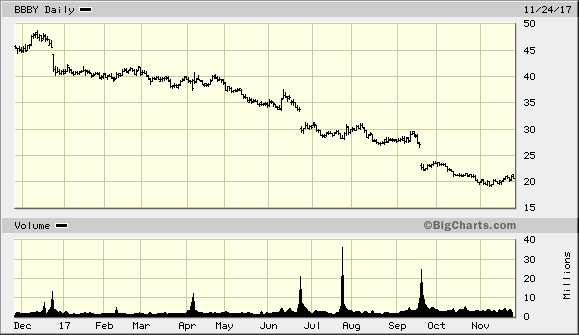 Will all of these companies rise, phoenix-like, from the ash heap onto which they have been thrown? Of course not. But I'll wager most have seen or within the next week or two will see their bottoming area and are unlikely to plunge further. And if only one or, dare to dream, two recover anywhere near their high of this year…
Please do your own due diligence on these or any other company.
Disclaimer: I do not know your personal financial situation, so I encourage you to do your own due diligence on issues I discuss to see if they might be of value in your own investing.(Or, ...
more