Buy My Top 2 High-Yield Dividend Picks For 2021
In September, the common shares dividend was again increased five cents to $0.15 per share. You can see where the New Residential board is going with its dividend recovery plans. For the third quarter, core earnings were $131.6 million, or $0.31 per share. Book value increased to $10.86. Of greater interest was the massive increase in origination and servicing profits. Origination posted a pre-tax income of $312.3 million, up 72% compared to the second quarter. Servicing pre-tax profits of $30.3 million were up 24% quarter over quarter.
To recap, coming out of the 2020 first quarter coronavirus related market crash, New Residential has been slowly rebuilding its investment portfolio. Still, at the same time, it has profited greatly from the surge in home buying and mortgage refinancing. New Residential jumped into the mortgage origination business in September 2019 when it acquired Ditech Holding Corp. The move into mortgages with the newly named NewRez was perfect timing.
While the New Residential share price has marched steadily higher from the Spring lows, there remains tremendous upside for investors. It is possible, even likely, that the company will in 2021 spin-off NewRez as a separate company. If that happens, expect an investment in New Residential at the start of 2021 to be doubled by the end of the year.
My conservative stock for 2021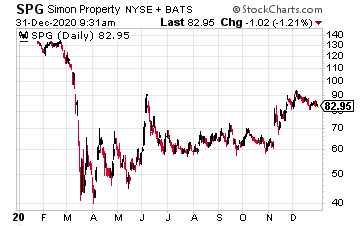 With a $32 billion market cap, Simon Property Group (SPG) is a top-five REIT by size. As the owner of enclosed shopping malls and premium outlet malls, Simon was battered by the coronavirus pandemic and related economic shutdown. In March 2020, the company closed all of its U.S.-based properties. To preserve cash, The SPG dividend was reduced from an $8.40 annual rate to $6.00 paid in 2020.
In reaction to the coronavirus pandemic, Simon Property Group became aggressive to ensure it would survive and thrive in the post-covid world. Here is a list of moves and acquisitions made in 2020:
As of May 11, Simon had reopened 77 properties. By June 29, 199 of the company's 204 U.S. properties had reopened.
In February 2020, Simon put together the acquisition of fast fashion retailer Forever 21. Simon and Authentic Brands Group each own 37.5%, and Brookfield Property Partners owns the balance. Buying name-brand retailers out of bankruptcy will allow Simon to keep stores occupied and help manage the brands back to profitability.
In November, Simon and Taubman Centers (TCO) agreed for Simon to acquire Taubman for $43.00 per share in cash. In February, the companies had agreed on $52.50 per share; however, Simon later withdrew that offer. Taubman owns 26 super-regional shopping centers in the U.S. and Asia. Before the pandemic, Taubman had generated roughly $3.60 per share in annual funds from operations. The purchase by Simon closed in the final week of 2020.
Disclaimer: The information contained in this article is neither an offer nor a recommendation to buy or sell any security, options on equities, or cryptocurrency. Investors Alley Corp. and its ...
more