Buy My Top 2 High-Yield Dividend Picks For 2021
Each year I am asked by the MoneyShow folks to submit two stock recommendations for the new year. These recommendations are published on the MoneyShow website as well as mainstream financial websites, such as Forbes. I always put out one aggressive stock pick and one conservative one.
Image source: Pixabay
Since my focus is the Dividend Hunter, both stocks will be higher-yield dividend-paying companies. This year I have a pandemic recovery play for the aggressive stock. The conservative stock also is one that suffered a severe, short-term whack to its business results due to the pandemic. Both of these stocks have the potential to both raise dividends and post significant share price appreciation through the new year.
My aggressive stock for 2021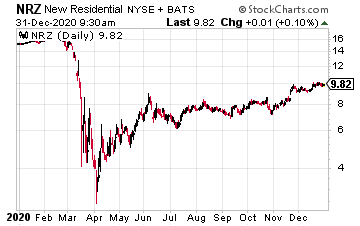 New Residential Investment Corp (NRZ) is a finance real estate investment trust (REIT) that faced near-collapse during the early days of the pandemic-fueled economic crisis. Due to disruptions in the financial markets during the 2020 first quarter, New Residential sold off $28 billion in investment assets, reducing the portfolio by 61%. The sales were made to preserve book value, which still took a 34% hit—down to $10.71 at the end of the 2020 first quarter. To preserve cash, the company slashed the dividend by 90% to $0.05 per share paid in May 2020. The previous $0.50-per-share dividend had been paid since the last increase in June 2017.
From core earnings of $0.61 per share for the 2019 fourth quarter, New Residential was in survival mode by the end of the 2020 first quarter. After selling off most of its investment portfolio by the end of the first quarter, New Residential went quickly to work to rebuild the company's book value and core earnings.
In June, New Residential doubled its common stock dividend to $0.10 per share. For the second quarter, core earnings came in at $140.2 million, or $0.34 per share, and the book value was $10.77. Cash on hand of $1.077 billion at quarter-end was up from $360 million at the end of the first quarter. At that point, the company was again looking for investment opportunities. For the second quarter, the fledgling mortgage origination and servicing business generated $205 million of pre-tax income.
Disclaimer: The information contained in this article is neither an offer nor a recommendation to buy or sell any security, options on equities, or cryptocurrency. Investors Alley Corp. and its ...
more