Buy My Top 2 High-Yield Dividend Picks For 2020
Each year I am asked by the MoneyShow folks to submit two stock picks for the new year. My picks are published on the MoneyShow website and mainstream financial websites, such as Forbes. I put out an aggressive stock pick and a conservative one. Since I am the Dividend Hunter, both stocks will be higher yield dividend paying companies. This year I have a turnaround play for the aggressive stock. The conservative stock doesn't require you to watch the share price: just collect the big dividends for as many years as you want to own the shares.
My aggressive stock pick for 2020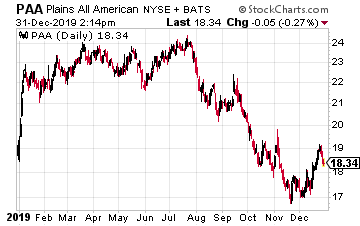 Plains All American Pipelines LP (PAA) is an energy midstream services company that should provide a strong move up in 2020. Plains GP Holdings LP (PAGP) is the 1099 reporting equivalent to the traditional PAA MLP units.
Plains has suffered tremendously from the energy sector bear market that started in September 2014. In September 2014, PAA was trading for over $60 per unit. Now it is less than $19. The quarterly dividend is down by half from mid-2016, at a current $0.36 per unit, compared to $0.70, two-and-a-half years ago. So, what makes me think that 2020 will be the turnaround year for Plains All American Pipelines? The reasons started two years ago, near the end of 2017.
Plains is a crude oil pipeline and storage company. The pipeline network stretches from Canada to the U.S. Gulf Coast. The company is a major transporter out of the Permian Basin and is one of the largest owners of storage in Cushing, OK. Plains handles 6 million barrels of crude oil or natural gas liquids (NGLs) every day.
In August 2017 Plains announced a leverage reduction plan, to put the company into a more secure financial situation. At that time, the quarterly dividend was reduced from $0.55 per unit down to $0.30, a 45% slashing. The reduction retained $1.1 billion in cash flow over the next six quarters.
The company sold about $1 billion in assets, and the combination of sales and cash retention reduced the total corporate debt from $11.15 billion down to a current $9.2 billion. More importantly, the long-term debt to EBITDA leverage ratio dropped from 5.1 times in Q3 2017 down to a current 2.8 times.
Disclaimer: The information contained in this article is neither an offer nor a recommendation to buy or sell any security, options on equities, or cryptocurrency. Investors Alley Corp. and its ...
more