Buy General Electric Despite Electrolux Blowup: Growth Ahead In 2016
Termination of Electrolux Transaction
Recently, General Electric (NYSE:GE) announced it had decided to terminate its proposed sale of its Appliances division to Swedish company Electrolux (OTC:ELUXF) for $3.3 billion. After announcing the proposed sale in 2014, the Justice Department had sued to stop it on the basis that the sale would translate into too little competition for the appliance market. The announcement led GE's stocks to fall by 0.4 percent.
(click to enlarge)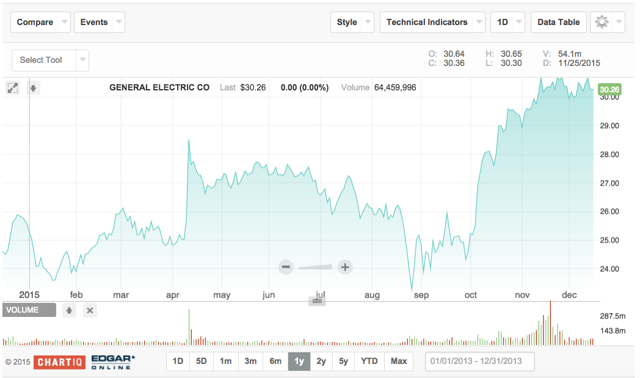 (NASDAQ.com)
The company has a focus on concentrating more in its industrial line of business. Despite this, things are still looking bright for GE's future.
Alstom Acquisition
In November, GE finally completed its acquisition of the European power company Alstom's power grids in Europe. The deal had taken a lengthy period of time due to prolonged negotiations with regulators in Europe. However, the time involved had some positive effects on the ultimate result. The deal was ultimately completed for $10.3 billion, a reduction from the original amount of $13.5 billion, due in part to a $2.5 billion currency value movement that ended up favoring GE's position. The acquisition also provides GE with a backlog of turbine orders for Alstom of $50 billion, which brings the total amount of backlogged turbine orders for the company to $300 billion. It also will save GE around $3 billion in costs through the year 2020.
Potential Halliburton Deal
At the same time, GE has continued its talks with Halliburton (NYSE:HAL) about potentially purchasing that company's bits and drilling services divisions. Although the Justice Department has expressed some concerns, if the sale is allowed, then GE will acquire even more assets through the $5 billion deal.
Recent GE Results
GE has a gross profit margin of 42.21 percent, which is higher than the same quarter a year ago. On Dec. 9, the company reported that it had successfully completed in excess of $100 billion in asset sales, leading its stock to rise by 0.59 percent to close at $30.65 on Dec. 10. By 2018, it is expected that the company will derive in excess of 90 percent of its income from its industrial holdings.
Disclosure: I am long GE.