Buy Bumble Stock When It Hits This Price
Bumble Inc. (Nassdaq: BMBL) is one of the hottest stocks on the market right now, but investors could be paying too much for the stock.
Don't get us wrong – this is an exciting company, but its already brought big gains to early investors. Those buying now might just be helping the fat cats cash out.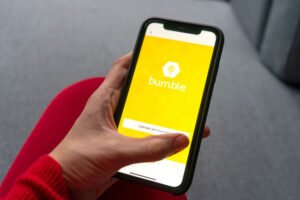 As one of the world's leading online dating companies, the IPO was surrounded with hype. It sold 50 million shares at $43 a pop. That placed a value on Bumble of almost $8 billion at the IPO.
Of course, the tech rally was still ongoing back in the distant days of February, so the stock price skyrocketed on the day of the offering and eventually placed a value on the stock of over $13 billion.
That is fantastic news if you were one of the lucky few who were able to purchase IPO shares. A 70% one-day gain is always nice if you can get it.
If you were a big client of Goldman Sachs Group Inc. (NYSE: GS), JPMorgan Chase & Co. (NYSE: JPM), or Citigroup Inc. (NYSE: C), you might have gotten a few shares as a thank you.
If you have dear friends or close relatives working at Bumble's private equity majority owner, Blackstone Group Inc. (NYSE: BX), you might have been given a small allocation of IPO shares.
The IPO and subsequent jump in price were fantastic news for Blackstone. They bought control of Bumble back in late 2019 in a deal that valued the company at just $3 billion.
Since the IPO, the stock has fallen off, with the stock now trading around $60.
That has investors wondering if the stock is a bargain now compared to its IPO bounce. Not to mention, vaccines and fewer restrictions on bars and restaurants could have the dating scene buzzing again.
But there's more to the story here.
Let's look at the pros and cons of buying Bumble stock…
The Pros and Cons of Bumble Stock
Disclaimer: Any performance results described herein are not based on actual trading of securities but are instead based on a hypothetical trading account which entered and exited the suggested ...
more