'Buffett Indicator' Extremes Expose "Remarkable Mania" In US Equities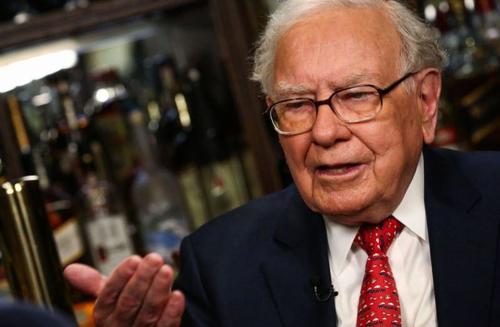 "It is growing increasingly clear to me that global stock markets are in the process of making a speculative move (driven by global liquidity) that may even compare to the advances that culminated in the seminal market tops in the Fall of 1987 and in the Spring of 2000."
Doug Kass' words echo around every corner of the world's markets - from junk bond yields at record lows (amid record leverage) to soaring commodity prices, and from 2000%-plus decentralized short-squeezes in worthless stocks to Dogecoin exuberance.
And the latest of these extreme market indications comes from The Oracle Of Omaha, whose favorite stock market valuation indicator flashes redder than ever before.
A glance at the chart below and Buffett's most-famous catchphrases comes to mind: Investors should "be fearful when others are greedy."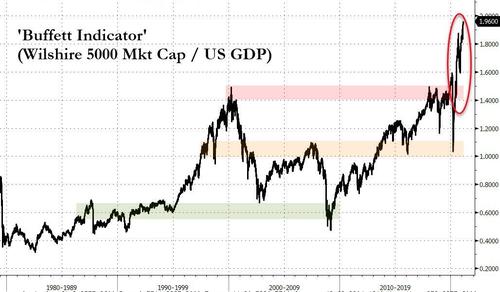 The "Buffett Indicator" is a simple ratio: The total market capitalization of U.S. stocks divided by the total dollar value of the nation's gross domestic product. It first crossed above its previous dot-com era peak in 2019.
And now, as Bloomberg reports, with U.S. market cap more than double the level of estimated GDP for the current quarter, the ratio has surged to the highest-ever reading above its long-term trend, according to an analysis by the blog Current Market Valuation, suggesting a "strongly overvalued" situation.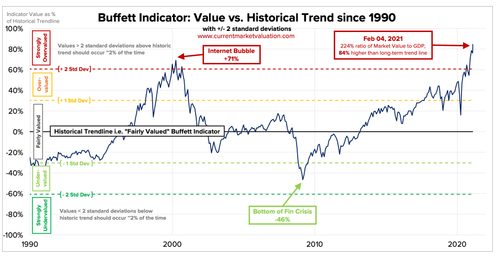 This detachment of the Buffett indicator from its long-term trend joins an assortment of other valuation metrics that have exceeded their previous records in the rebound from the pandemic-induced bear market last year - if not years earlier.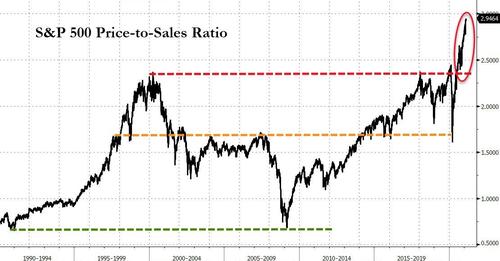 Price-to-earnings, price-to-sales and price-to-tangible-book value are among the metrics firmly above dot-com era levels that many investors assumed were once-in-a-lifetime peaks.
"It highlights the remarkable mania we are witnessing in the U.S. equity market," said Michael O'Rourke, chief market strategist at JonesTrading.

"Even if one expected those (Fed) policies to be permanent, which they should not be, it still would not justify paying two times the 25-year average for stocks."
Disclosure: Copyright ©2009-2021 ZeroHedge.com/ABC Media, LTD; All Rights Reserved. Zero Hedge is intended for Mature Audiences. Familiarize yourself with our legal and use policies every ...
more