Boxed Out
Despite years of rapid revenue growth, profitability remains elusive for this cloud-based storage provider. Going forward, despite expanding into workflow optimization and enterprise security, the path to profitability is clouded at best. Entrenched competition is well-positioned to take more market share and grow faster, but the stock is priced for the opposite. This week's Danger Zone pick is Box Inc. (BOX: $17/share).
We first warned about Box after its IPO in January 2015. Since then, BOX is down 23% while the S&P 500 is up 70%. We also recently put its peer, Dropbox (DBX), in the Danger Zone. Box faces the same competitive challenges to achieving any level of profitability as Dropbox. Box's slightly smaller user base and worse profitability makes its stock equally risky, especially for fiduciaries.
This report helps investors of all types see just how extreme the risk in BOX is based on:
Competition deeply integrated with target customers limits revenue potential
Slowing YoY revenue and user growth
Rising costs per user
Doing the math: the stock price implies Box will triple its paying users, which would equal over 23% of Microsoft Office 365 users.
Slowing Revenue Growth Rates Expected
While Box has grown revenue by 42% compounded annually since 2013, the firm's year-over-year (YoY) revenue growth rate has fallen from 40% in fiscal 2016 to 14% in fiscal 2020. Consensus estimates show that the market expects the firm's revenue growth rate to decline from 10% in fiscal 2021 to just 4% in fiscal 2024. Consensus estimates also imply Box will lose market share given that the global cloud storage market is expected to grow by 22% compounded annually from 2020 to 2025.
Figure 1: Box's YoY Revenue Growth: 2014-2024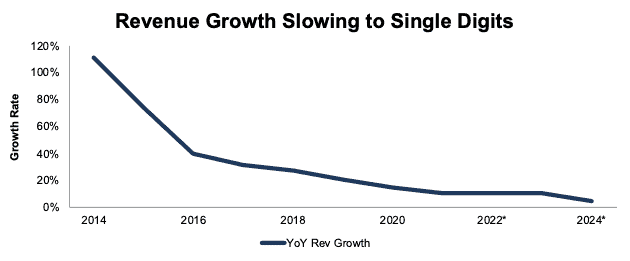 Sources: New Constructs, LLC, and company filings
*Consensus estimates
Growth of Paying Users Is Slowing
Despite investing in more enterprise-focused features, such as security/encryption, threat detection, and automation and workflow management, Box has been unable to ramp up the growth of paying users.
Box's paying users, its only source of revenue, are growing more slowly than in years past. Per Figure 2, the YoY growth in paying users has fallen from 58% in 2017 to 18% in 2Q20. Before COVID-19 increased demand for all cloud/internet services, Box's paying users grew just 9% YoY in fiscal 2020.
Figure 2: Box's YoY Change in Paying Users Since 2017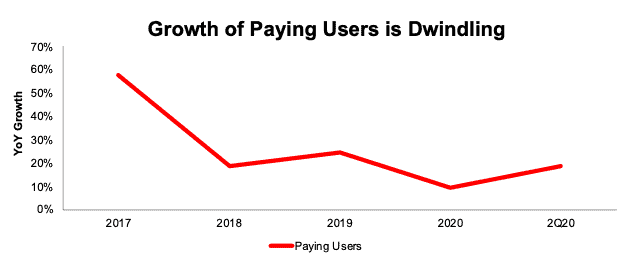 Sources: New Constructs, LLC and company filings
Costs Per User Are Rising
As Box's paying user growth slows, the costs of operating its business are increasing on a per user basis. Per Figure 3, Box's cost of revenue per user has increased from $2.16/user in 2017 to $3.00/user over the TTM.
Figure 3: Box's Cost of Revenue Per User: 2017-TTM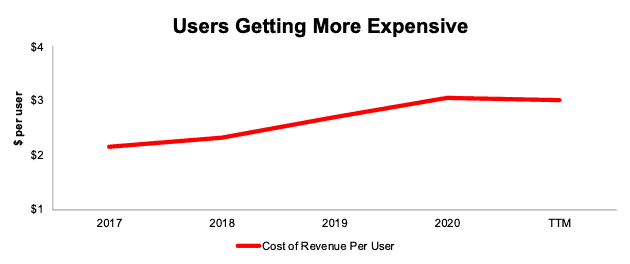 Sources: New Constructs, LLC and company filings
If we include research & development, sales & marketing, and general and administrative expenses, operating costs per user have increased from $10.56/user in 2017 to $11.30/user over the TTM.
Paying Users Retention Is Falling
As its competition expands offerings and takes more market share, Box is retaining paying users at a lower rate than in prior years. Box's retention rate has fallen from 144% in 2013 to 106% in 2Q20, per Figure 4.
Figure 4: Box's Retention Rate: 2013-2020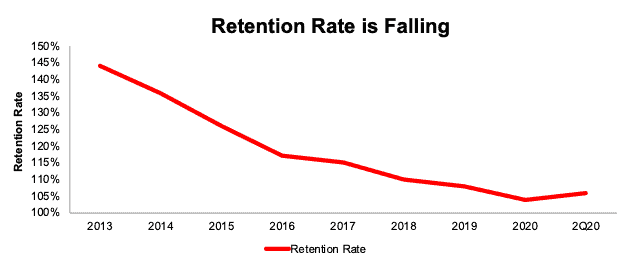 Sources: New Constructs, LLC and company filings
Growth During Work From Home Boom Lagged Competition
As COVID-19 forced most businesses to adapt their operations to be more remote-friendly, Box was in a prime position to gain market share.
But, it lost market share. Box's revenue grew 11% YoY in 2Q20 and 12% YoY in 1H20. By comparison, Google Cloud's revenue increased 43% YoY in 2Q20, and Microsoft grew its commercial cloud revenue by 39% YoY over the same period. Even Dropbox grew revenue faster, 16% YoY in 2Q20. If Box cannot outgrow the competition in such a favorable environment, when will it?
Competitors' Offerings Are Cheaper and Easier to Access
Most of Box's target customers already get Box-like services from Microsoft, Apple, or Google, who also offer other, more important, services such as word processing, spreadsheet/data management, or video conferencing tools. In comparison, Cloud storage is a low-value add-on.
To say the least, Box faces an uphill battle for Microsoft, Apple, or Google users. Why would Microsoft or Google users even think of using an outside/3rd-party Cloud storage vendor when Microsoft OneDrive is built directly into Microsoft's applications and Google Drive is integrated directly into Google Workplace?
Box pitches direct integration with Microsoft and Google as a selling point. However, once a user is paying for Microsoft and Google, why would they want to pay extra to use an outside app to edit and manage files when they get the same service from within Microsoft and Google?
Disclosure: David Trainer, Kyle Guske II, and Matt Shuler receive no compensation to write about any specific stock, style, or theme.