BofA Jumps On Solid Beat Thanks To Jump In Trading Revenue, Reserve Releases
One day after stellar Q1 earnings reports by JPMorgan and Goldman and the latest clunker from Wells Fargo, this morning Bank of America was so eager to demonstrate that it was no slouch, it posted earnings about 2 hours early, its Q1 report hitting just after 520am ET, when it also reported big beats on the top and bottom line thanks to a solid jump in better-than-expected trading revenue, echoing the releases from JPMorgan and Goldman. And while CEO Brian Moynihan flagged better credit costs and progress in the pandemic, which he said points to an accelerating recovery, he conceded that "low-interest rates continued to challenge revenue." And in a hint of Wells Fargo, BofA's net interest yield slid to 1.68% from 2.33% a year earlier, trailing an estimate of 1.71%.
Here are the Q1 details:
Revenue $22.82BN, beating exp. of $22.13BN, and up fractionally 0.2% Y/Y
EPS $0.86, beating exp. of $0.66, up more than 100% from $0.40 Y/Y
Net income of $8.1 billion increased by 47%, driven by reserves release and higher non-interest income, partly offset by higher expenses.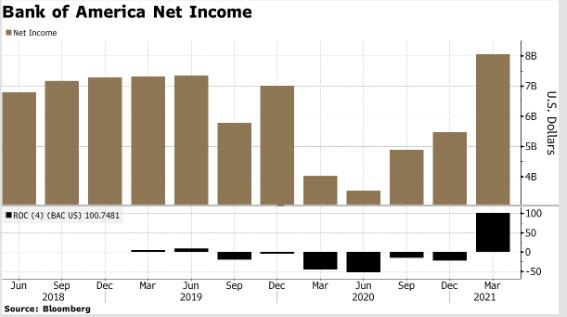 Like JPM and Wells, the generous bottom-line beat was facilitated by a jump in reserve releases, which increased to $2.7BN in the quarter, up from $0.8BN in Q4, and a sharp reversal from the loan loss reserve increase of $3.6BN a year ago.
Visually: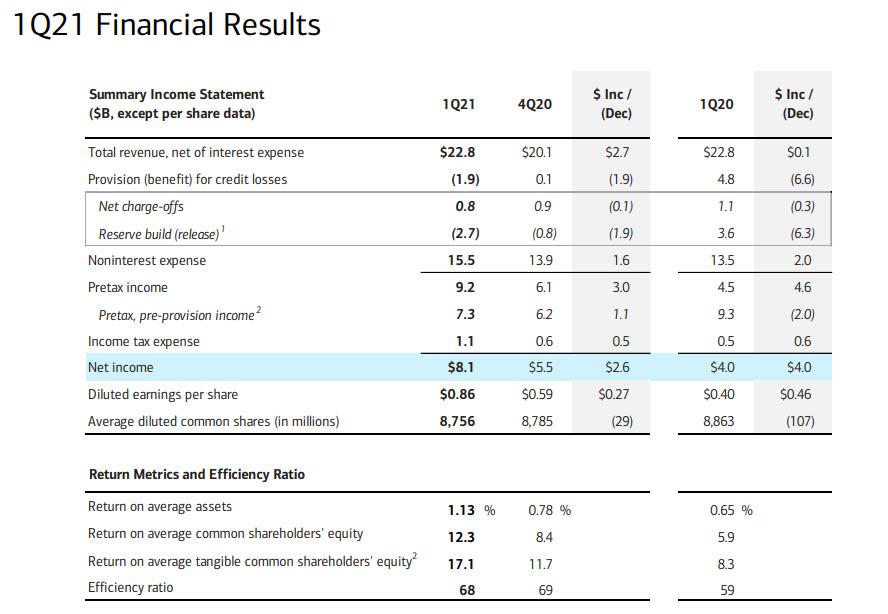 Digging into the asset quality and the reserve release, BofA disclosed that its provision benefit (recovery of credit losses) of $1.86B - far above the $473.5MM expected - included a $2.7B net reserve release reflecting an improved macroeconomic outlook and balance declines, offset by $823MM in Net Charge Offs.
Consumer reserve release of $1.4B, primarily driven by Card
Commercial reserve release of $1.2B
"The reserve assessment continues to factor in the uncertainty resulting from the unprecedented nature of the current health crisis and risks that may prevent full recovery"
Meanwhile, total net charge-offs of $823MMdecreased $58MM from 4Q20, and we down $300MM from a year ago. Consumer net charge-offs of $693MM increased $211MM, driven by Card due to expired deferrals, but were $179MM lower than 1Q20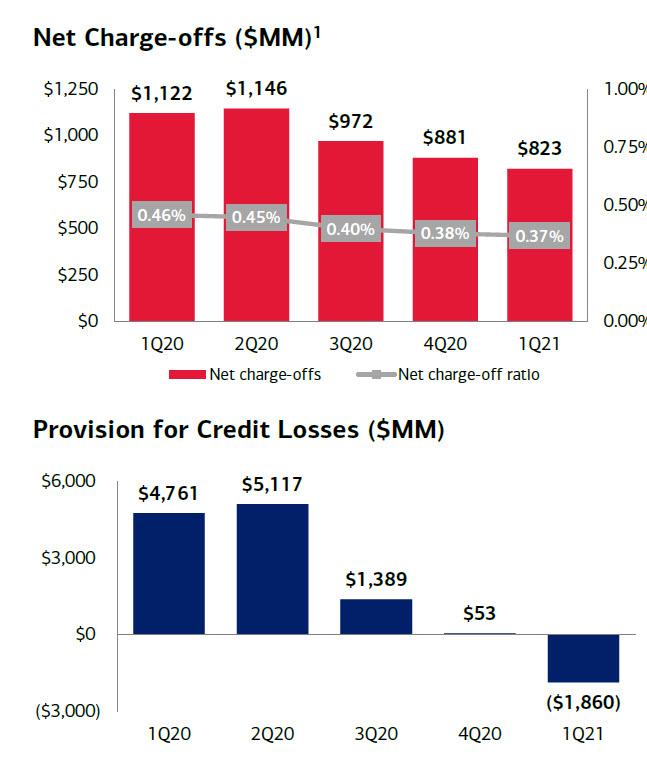 After the reserve release, BofA's allowance for loan and lease losses of $16.2B represented 1.8% of total loans and leases, while the total allowance of $18.0B included $1.8B for unfunded commitments; nonperforming loans (NPLs) increased $0.2B from 4Q20, driven by consumer real estate due to deferral activity.
Disclaimer: Copyright ©2009-2021 ZeroHedge.com/ABC Media, LTD; All Rights Reserved. Zero Hedge is intended for Mature Audiences. Familiarize yourself with our legal and use policies every time ...
more