Boeing Slides After Missing Earnings, Burning More Cash Than Expected
To be sure there were the usual Boeing-related setbacks: One disappointment for investors: Boeing again refrained from offering investors guidance for the company's full-year financial performance. In Boeing's slide presentation, the company provided a broad financial outlook by saying it expects "higher revenue, lower use of cash" in 2021. It said that would primarily come from higher 737 and 787 deliveries even as it continues to pay compensation for 737 Max delays.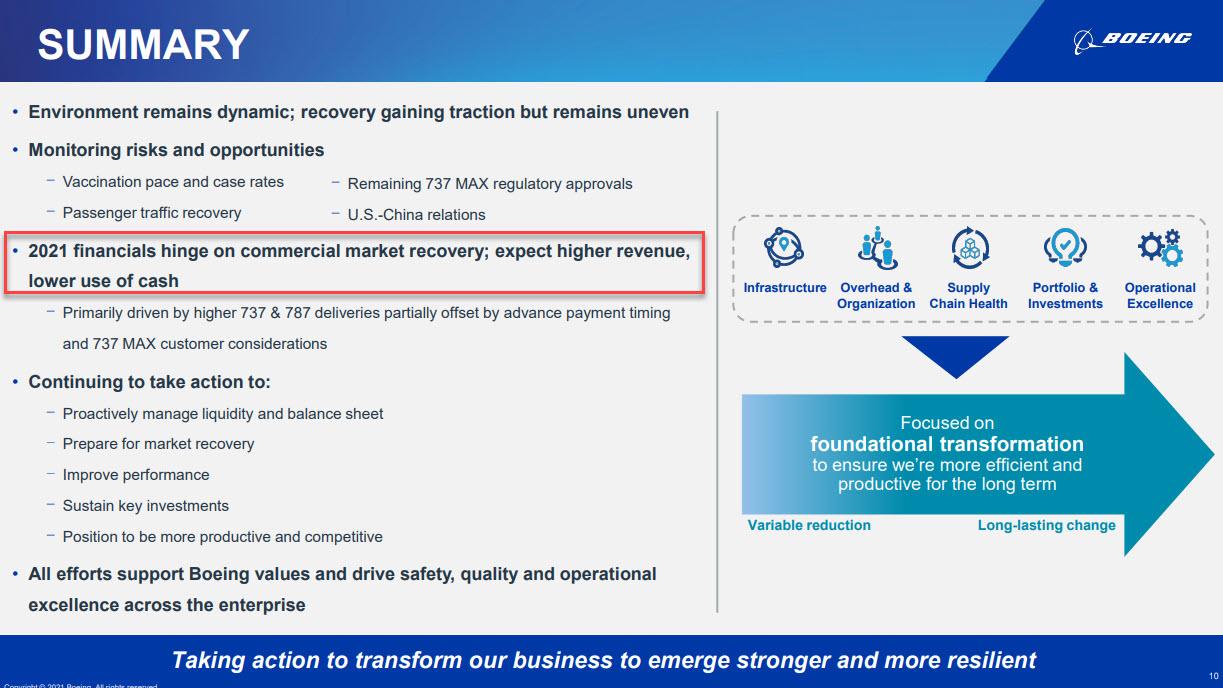 Another disappointment: while Boeing's results were generally in line with expectations, for yet another quarter Boeing burned more cash than expected as plunging 787 Dreamliner deliveries offset the benefits of the 737 Max's return following the longest jetliner grounding in U.S. history; Q1 adjusted Free Cash Burn of $3.68BN was about $1BN better than a year ago but worse than the $3.34BN expected.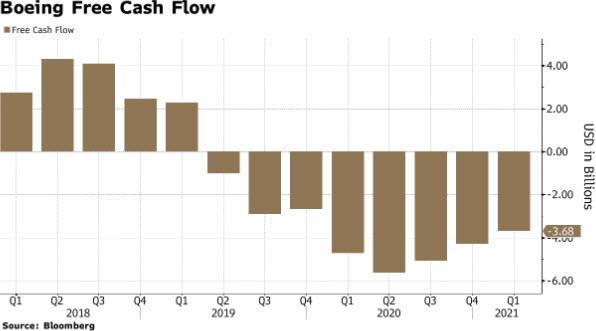 As a result, while the company's cash declined by almost $4BN, its debt remained at a staggering $62BN. The longer Boeing is unable to reduce its debt load, the more likely it will lose its Baa2/BBB- investment-grade rating.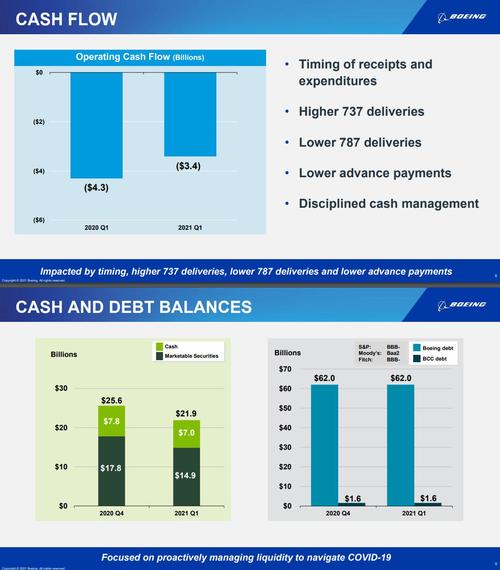 There was more: Boeing said it's still working on potential electrical faults on the 737 Max, i.e., the company doesn't yet have a solution to a problem that has forced a suspension of deliveries. That's a topic that's sure to come up on the conference call. For now, Boeing says this: "We are working closely with the FAA and our customers to address electrical issues identified in certain locations in the flight deck of select 737 Max airplanes."
As Bloomberg summarizes investor sentiment, Boeing's cash burn missed expectations after plunging 787 Dreamliner deliveries blunted the benefits of the 737 Max's return following the longest jetliner grounding in U.S. history. The shaky performance underscored the challenges ahead for Boeing as it emerges from one of the toughest two-year stretches in its century-long history.