Boeing Slides After Missing Earnings, Burning More Cash Than Expected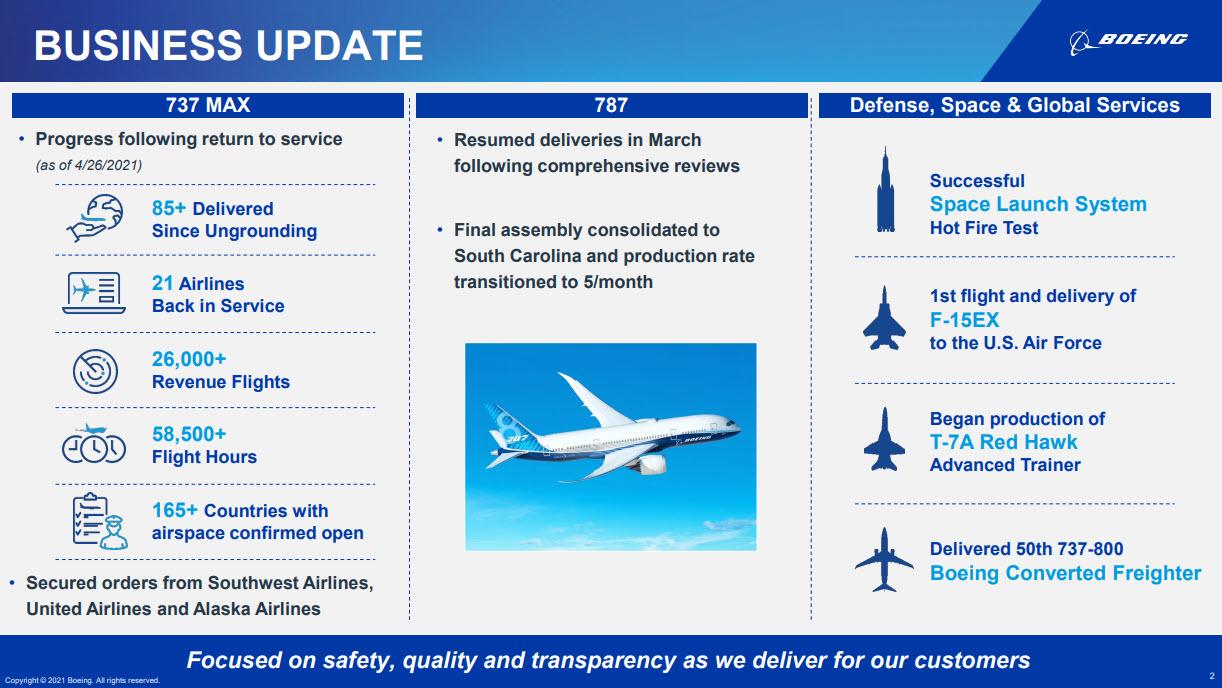 Of note, Boeing revealed a $318 million charge at its defense unit in the quarter on its contract to manufacture replacements for Air Force One presidential aircraft. Boeing says the charge was "largely due to Covid-19 impacts and performance issues at a key supplier."
In its slide deck (see below), Boeing stated the obvious saying that "2021 financials hinge on commercial market recovery" and cited four key risks and opportunities:
The pace of vaccinations and coronavirus case rates
Airline passenger traffic recovery
Remaining regulatory approvals for the 737 Max
U.S.-China relations
Separately, the company's total backlog reversed its ongoing decline and grew to $364 billion as Commercial Airplanes added 76 net orders.
Boeing's inventories also grew by $953 million to $82.7 billion in the quarter even as the company cranked up 737 Max deliveries. This more than likely was driven by the inspections and repairs that caused Boeing to halt 787 Dreamliner deliveries for five months. The company had around 96 of the wide-body jets parked around its factories and in the California desert as of the end of March, estimates Robert Spingarn, an analyst with Credit Suisse. That would equate to about $12 billion of inventory.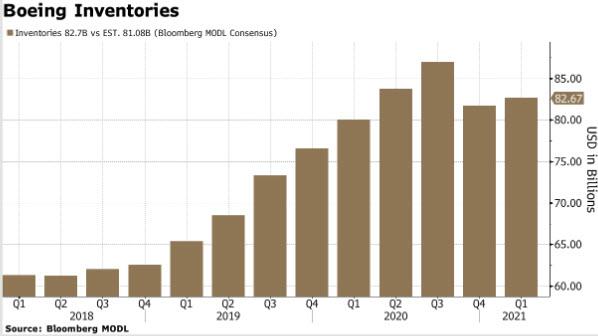 Commenting on the quarter, CEO Dave Calhoun said that "while the global pandemic continues to challenge the overall market environment, we view 2021 as a key inflection point for our industry as vaccine distribution accelerates and we work together across government and industry to help enable a robust recovery."
Boeing "made important strides this quarter, and we must stay diligent as we navigate through this global pandemic together. Challenges remain, and we will continue to monitor the global trade environment as well as Covid-19 trends across the globe," Calhoun said in a message to employees.
Airlines have been ramping up flight capacity as rising vaccination rates make travelers confident about traveling once again. That has boosted deliveries of Boeing's fast-selling 737 MAX plane after it was cleared by regulators to re-enter service late last year following two fatal accidents, lifting revenue and cash flow at the planemaker.