Boeing Plunges After Unexpected 777X Delay; Cash Inferno Continues
One quarter after Boeing announced it would fire 11,000 workers in hopes to stem its massive cash burn (which in Q3 hit $5 billion), moments ago Boeing gave an update on how its attempt to halt the melting of the ice-cube is going. Alas... not good.
In Q4, the company reported revenue of $15.30BN, down from $17.9BN a year ago, if slightly ahead of est. of $15.09BN. The loss per share - which exploded - was meaningless, soaring to ($15.25) in Q4 up over 7x from the Loss of $2.33 a year ago, and clearly irrelevant in the context of the ($1.80 exp), largely as a result of another massive charge taken by the company due to delays on the 777X program. Meanwhile, Boeing's attempts to stem its massive cash burn continue to fail, with the company's free cash burn in Q4 at $4.27Bn, more than the $4BN estimate, and a record $18.4Bn for the full year.
And while everyone knows about the company's struggles with the 737MAX and covid, the big surprise this quarter was the headline charge on one of the day's big announcements: the delay of the 777X. The first delivery of the behemoth wide-body jet now won't be made until late 2023. The program took a $6.5 billion charge, Boeing said. Some other highlights from the quarter:
Boeing Says 777X Program Recorded $6.5B Pretax Charge in 4Q
Boeing Says First 777X Delivery Expected in Late 2023
Boeing 4Q Neg Oper Cash Flow $4.01B, Est. Negative $3.98B
Boeing 4Q Adj Free Cash Burn $4.27B, Est. Burn $4B
Boeing 4Q Neg Adj Free Cash Flow $4.27B, Est. Negative $4B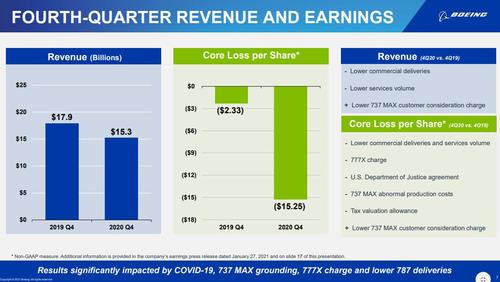 This is what CEO Calhoun said about the quarter:
"The deep impact of the pandemic on commercial air travel, coupled with the 737 MAX grounding, challenged our results," Calhoun said. "While the impact of COVID-19 presents continued challenges for commercial aerospace into 2021, we remain confident in our future, squarely-focused on safety, quality and transparency as we rebuild trust and transform our business."