Big Upcoming Catalysts For These 2 Small Biotechs
One thing that I have developed over the past couple of decades investing in the small biotech space is learning to recognize when a company and its stock start to have positive catalysts happening and also on the horizon. This is critical in spotting potential big winners in the market.
In spring of last year I noticed that Avanir Pharmaceuticals (NASDAQ: AVNR) had just won a major court victory to retain exclusivity on its primary drug through 2026 and also had phase II trial results coming up later on in the year for a promising compound to treat the agitation commonly found in Alzheimer's patients. When results turned out to be positive a few months later, the stock shot up. Soon thereafter, the company received a substantial buyout offer from a bigger Japanese based pharma player in December bringing better than a 215% return to the Small Cap Gems portfolio.
Given the huge amount of volatility in the small cap biotech space it is crucial that investors know what if any potential positive catalysts are on the near and medium term horizon for a company when they consider making an investment in a speculative but promising stock in this sector. Here are a couple of small biotech equities that appear to have mounting positive catalysts, as well as promising futures.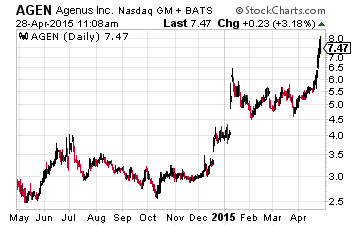 Agenus Inc. (NASDAQ: AGEN), is a biotech company I have talked about a couple of times in 2015 on these pages. The shares are also up some 140% since their inclusion in late November into the Small Cap Gems portfolio. The stock was up another 20% last week as Agenus reported quarterly results. Evidently investors and analysts were impressed with the quarter and the conference call the company conducted afterward.
There are many reasons for optimism for the rest of 2015. Agenus adjuvant looks like it will get approval within a year for both a shingles and a malaria vaccine developed in conjunction with partner GlaxoSmithKline (NYSE: GSK). Both will be significant improvements from anything on the market for both of these widespread diseases. Malaria alone kills some 600,000 people a year in Africa, a death toll this new vaccine has the potential to greatly reduce. Shingles, although not lethal, is quite painful and affects some 300 million people in United States, Europe and Japan at some point in their lives. Agenus will get small milestone payments once final approval is given for both vaccines as well as royalty fees on all subsequent sales.
Later this year full Phase II study results for the company's Prophage vaccine for glioblastoma multiforme, a very deadly form of brain cancer should be published. Results from early stage trials were very encouraging. In addition, numerous trials focused on advancing checkpoint modulating antibodies against four key immune checkpoint targets will get underway with partner Incyte (NASDAQ: INCY) which will co-fund development.
Incyte entered into a partnership to develop these four compounds earlier this year. Incyte paid Agenus $35 million upfront and bought $25 million of shares in Agenus. Each of these compounds could also result in another $155 million in payments and tiered royalties if successful. Agenus has a similar but smaller deal with giant Merck (NYSE: MRK) to use Agenus' technology to develop different compounds. The stock now has a $500 million market capitalization and ended the last quarter with some $80 million in cash. Even with the recent rally, the stock seems cheap compared with potential catalysts and upcoming revenue streams.
Unlike Agenus, Protalix BioTherapeutics (NYSE: PLX) just popped onto my radar screen as the result of Jefferies upgrading the shares to a Buy last week. It was the first new rating on these little followed shares in over a year. In addition, after trading in a relatively narrow trading range between $1.50 and $2.00 a share over the last six months, the stock has broken out to the upside in recent weeks.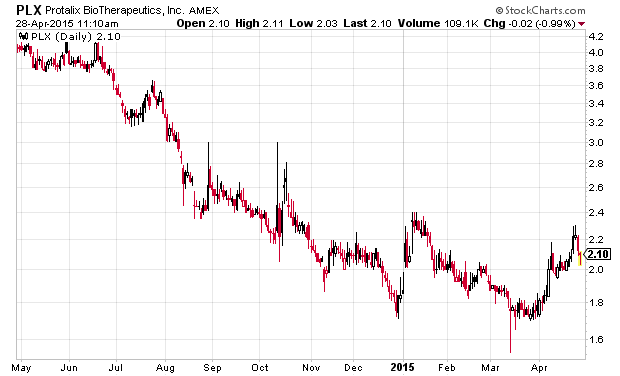 Protalix is focused on the development and commercialization of recombinant therapeutic proteins based on their proprietary ProCellEx®protein expression system. ProCellEx® is a next-generation recombinant protein expression system that uses advanced genetic engineering and plant (carrot and tobacco) cell culture technology instead of the traditional mammalian- or yeast-based systems, enabling the production of a wide range of complex, proprietary and biologically equivalent human proteins to address a variety of diseases
The company has one approved product on the market "Elelyso" which is used as long-term enzyme replacement therapy for adults with a confirmed diagnosis of Type 1 Gaucher disease. The therapy is approved in the U.S., Canada, Brazil, Mexico and a few other countries. Protalix's commercialization partner Pfizer (NYSE: PFE) is leading the charge to get the product approved in other markets.
This compound is gaining traction and sales should approximately triple to $45 million in FY2015 with further revenue gains expected in 2016. This sales growth should narrow the company's loss dramatically this year and the company is expected to post a small profit in 2016.
The company has four other promising compounds in early development including a therapeutic enzyme for the potential treatment of Fabry disease which is a rare genetic lysosomal storage disorder which occurs in one of every 50,000 people. The current treatment costs some $200,000 annually. In February the company presented positive interim data from its Phase 1/2 dose-ranging study involving 18 patients. Full results should be released before the end of the year and could be the next positive catalyst for the company and stock.
Protalix has an approximate market capitalization of $200 million, one fast growing approved product and four other compounds in early development and the shares seem worthy of a small, speculative investment given upcoming catalysts and Agenus warrants continued faith even with its recent rally as 2015 is looking like its breakout year.
Disclosure: Long AGEN, PLX
For more on how I find these winners and how ...
more