Beware The Stampedes: Public Pensions Flock To Credit Funds As Investors Flee Stocks
The herd mentality is in full force on Wall Street, but two groups are stampeding in different directions. Equity investors have spent the last couple of months dumping stocks across sectors; meanwhile, public pension plans have been pouring money into credit as the cloud of unfunded liabilities lingers.
In fact, one analyst reports that pension allocations to credit hit a new record last month.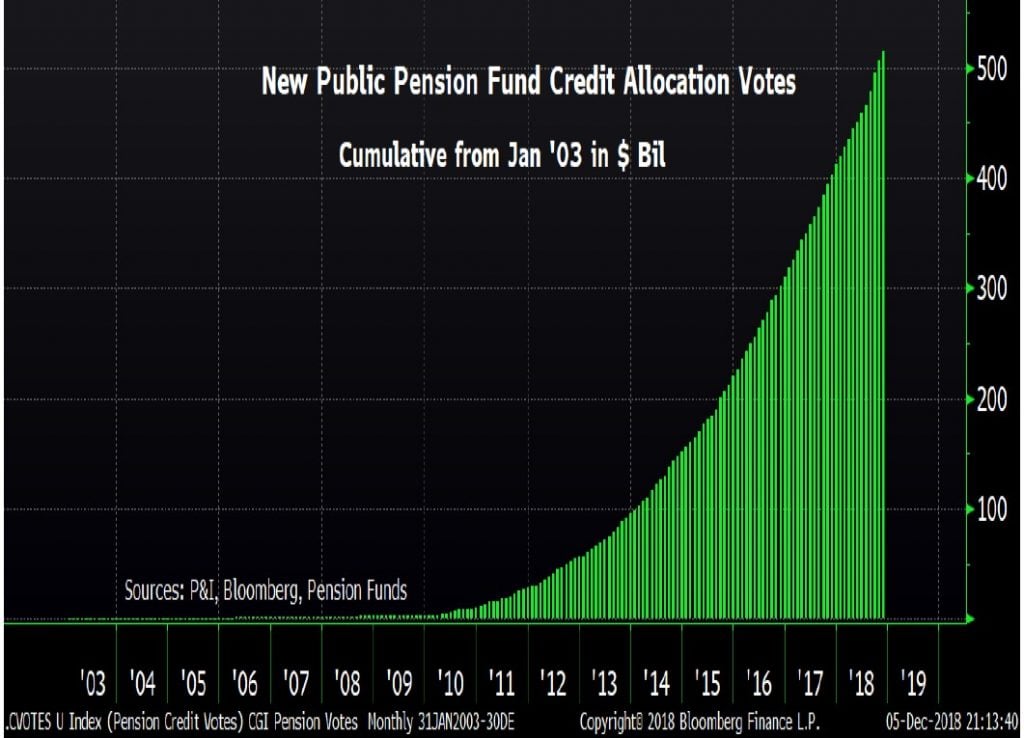 Even though stocks are selling off right now, the heavy pension-lend credit buying should eventually lead to a rally in equities.
Pension plans putting their money to work
Canaccord Genuity analyst Brian Reynolds pointed out the pension trends in a note today. He predicts that the latest stock correction will last three to four months, noting that this week's bounce proved to be only fleeting. He said investors saw the uptick in stock prices as a chance to exit, so that's exactly what most of them did, triggering another round of selling. The S&P 500, Dow Jones Industrial Average and NASDAQ Composite were each down by about 1%.
One of the biggest issues for stock prices was the inversion of the two- to five-year section of the Treasury curve earlier this week. The inversion sparked some initial equity selling, which then intensified as investors heard more and more about the inversion, causing them to become even more worried in an endless cycle which continued to pound stocks.
Here's where public pensions are putting their money
Reynolds tracked pension fund investments into credit and related investments during this latest round of panic-driven equity selling. For example, he found that the New York Common Fund invested $225 million into private equity funds and another $200 million in a buyout fund. New Jersey's pension plan invested $275 million into buyout funds.
He also learned that the Texas County & District pension invested $86 million in a distressed credit fund, $100 million in a strategic credit fund and another $100 million in a PE fund. Nashville's pension invested $20 million in a value-added real estate fund, while the Ann Arbor City Employees' pension poured $9 million into a credit fund.