Bear Of The Day: FreightCar America
FreightCar America (RAIL - Free Report) has consistently been a Zacks #5 Rank (Strong Sell) for most of the past 2 years as demand for coal-carrying freight cars, its specialty, slowed down.

Well the $162 million RAIL was never a P/E value in recent history and after earning a profit of $0.43 last year, the 2017 EPS consensus is for a big drop to -$0.56.

And Tracey was all over it a year ago too. Here's what she had to say in March of 2016 when RAIL was trading around $15 and the estimates kept slipping away...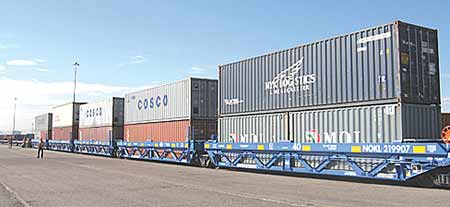 The Best Year Since 2006 But...
On Feb 22 (of 2016), the company reported fourth quarter and full year results which were the best since 2006. Even allotting for the sale of its railcar repair and maintenance services, it was still a record year.
But, that is expected to change over the next several years. The railcar manufacturing business has always been cyclical and it is now heading into the "down" part of the cycle.
You can see the change in the earnings picture:
2015: $2.32
2016 expected: $1.50
2017 expected: $1.41

2016 is an earnings decline of 35.3% year over year.
Now, you probably notice right away, that even with that 35% EPS drop into 2016, a year ago Tracey was looking at a healthier profit outlook than has actually come to pass.

And she was still bearish on this outlook!

Here she continues on the key questions which show that Tracey was way ahead of most Wall Street analysts in forecasting further declines in sales and profits...

Backlog To Fall

The best indicator of the down side is the backlog.

Year-end manufacturing backlog peaked in December 2014 at 14,791. At the end of December 2015 it was 9840. Non-coal cars comprised 99.6% of the total backlog as of Dec 31, 2015.
I would expect it to continue to fall as the number of orders remains lighter than prior years.

Is It Cheap?
Shares have dropped to 2-year lows.
But is it a bargain? They're trading with a forward P/E of just 10 which seems cheap but with earnings expected to decline over the next 2 years, this could be a value trap.
Disclosure: None.
Kevin Cook is a Senior Stock Strategist for Zacks where he runs the more