BABA Butterfly Spread Example
Alibaba (BABA) is currently showing an IV Percentile of 88% which means the current level of implied volatility is higher than 88% of occurrences in the last 12 months.
That makes it a good candidate for a short volatility trade such as a short straddle of a butterfly spread.
Let's look at an example of a butterfly spread.
A butterfly is a neutral, income-oriented strategy. It is a limited risk and limited profit trade, but on a typical butterfly trade, the profit potential is higher than the potential loss.
Butterfly spreads involve 3 different option strike prices, all within the same expiration date, and can be created using either calls or puts.
A typical butterfly would be constructed as follows:
Buy 1 in-the-money call
Sell 2 at-the-money calls
Buy 1 out-of-the-money call
For BABA, a butterfly spread might be set up something like this:
Buy 1 February 19th 205 call @ 34.60
Sell 2 February 19th 235 calls @ 14.10
Buy 1 February 19th 265 call @ 4.00
The total cost of this trade is $1,040 and that is the maximum loss potential on the trade.
The maximum gain is $1,960 which is calculated by taking the difference in strike prices less the premium paid ($3,000 less $1,040).
The breakeven prices are 202.55 and 227.45 (215 plus and minus 12.45)
A butterfly options trade has a tent-like shape with the potential for very large profits around the short strike. It's important to keep in mind that it's unlikely you would ever achieve the maximum profit.
A good aim for a butterfly trade is to make a 20% return on capital at risk. In this case that would be around $200.
I would set a stop loss or adjustment point if BABA hit either of the breakeven points which are at 215.60 and 254.40 respectively.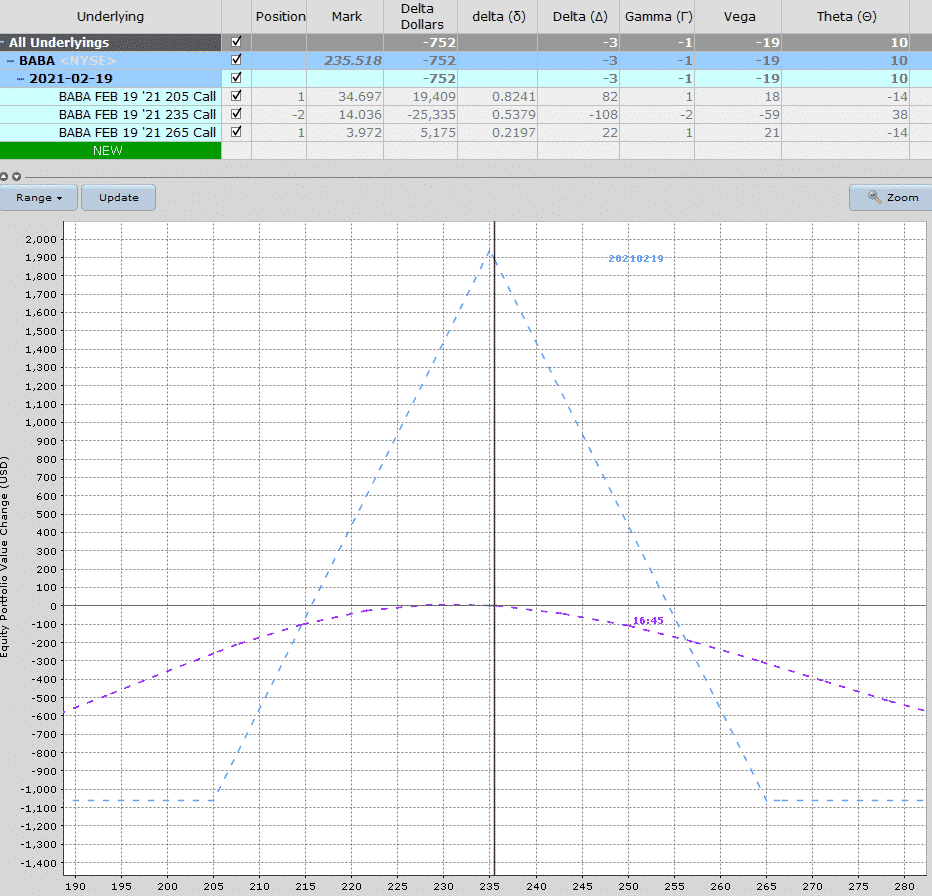 Disclaimer: The information above is for educational purposes only and should not be treated as investment advice. The strategy presented would not be suitable for investors who are ...
more