Avoid Bad ROIC Stocks In Risk-Off Markets
Just as stocks for companies with higher returns on invested capital (ROIC) performed the best during and after the financial crisis, we see stocks for companies with low ROICs performing worse in the current crisis.
Investors should avoid stocks for companies with low (and falling) ROICs.
Our Robo-Analyst[1] warns against owning these companies with falling ROICs, declining economic earnings, and overvalued stock prices: Nutanix (NTNX: $15/share), Lyft (LYFT: $21/share), Eventbrite (EB: $8/share), Wayfair (W: $27/share), and Uber (UBER: $21/share). We featured Nutanix and Wayfair last week. We focus on Uber (UBER) and Eventbrite (EB) as this week's Danger Zone picks.
Risk-Off Leaves Weak Firms Exposed
When the markets get dicey, the best way to minimize losses is to own stocks with high ROICs. Stocks for companies with poor core earnings suffer more because, too often, their valuations were built on hope or hype.
For example:
55% of our open Danger Zone picks from the past two years[2] have fallen more than the S&P in 2020 (as of March 20, 2020).
91% of these picks have negative year-to-date (YTD) returns.
Figure 1 shows our best-performing Danger Zone picks.
Figure 1: Danger Zone Picks Outperform as Shorts in Falling Markets

* Includes open Danger Zone picks published from the beginning of 2018 through February 12, 2020.
Sources: New Constructs, LLC and company filings.
Our latest Danger Zone picks have the following in common with the picks in Figure 1:
Negative and falling core earnings[3] and economic earnings
Low/negative and declining ROICs
Declining and/or negative economic earnings
Unattractive or Very Unattractive ratings
Despite falling more than the overall market YTD, many of these Danger Zone picks remain overvalued. Investors trying to protect their portfolio from further downside should avoid UBER and EB.
Uber Technologies (UBER) – Unattractive Rating
We first made Uber Technologies a Danger Zone pick in April 2019. Since going public in May 2019, the stock is down 53% (S&P 500 -21%) from its IPO price of $45/share. This underperformance is warranted, as the firm's fundamentals have only worsened. As investors bail on profitless "growth story" stocks, UBER could fall much further.
Uber's Weak Fundamentals: ROIC drops from -12% in 2018 to -26% in 2019
Despite slight improvement in 2018, Uber's operational and capital efficiency, i.e. its ROIC, declined significantly in 2019. Uber's net operating profit after-tax (NOPAT) margin fell from -19% in 2018 to -48% in 2019. At the same time, its invested capital turns, a measure of capital efficiency, declined from 0.65 to 0.56. The combination of falling margin and capital turns drove UBER's ROIC from -12% in 2018 to -26% in 2019.
Despite growing revenue by 34% compounded annually since 2017, Uber's core earnings have actually fallen from -$4.1 billion in 2017 to -$7.1 billion in 2019, per Figure 2. The firm's core earnings margin fell from -23% in 2018 to -50% in 2019. The firm has burned through -$23.3 billion in free cash flow (63% of market cap) over the past two years.
Figure 2: UBER's Core Earnings & ROIC Since 2017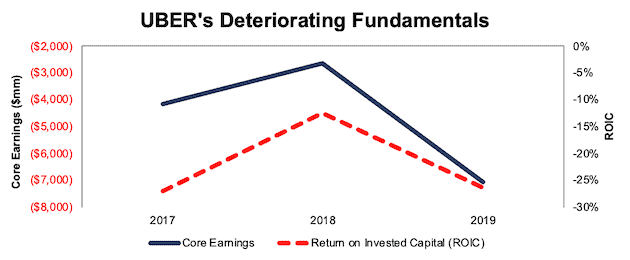 Sources: New Constructs, LLC and company filings
Economic Earnings Are Even Worse
Core earnings account for unusual gains and expenses included in GAAP net income. To get the full picture of a company's operations and hold management accountable for capital allocation, we also analyze balance sheets to calculate accurate ROIC and economic earnings.
Disclosure: David Trainer, Kyle Guske II, and Matt Shuler receive no compensation to write about any specific stock, sector, style, or theme.