Are Shipping/Tanker Stocks Finally Worth Owning? A 3-Year Check-In
Shipping has not been a great industry–for management teams or investors–for several years now.
I warned readers to avoid the sector like the plague back in 2016.
The sector is capital-intensive, has no product differentiation (ie. one ship is the same as the next), and frankly, my experience has been that management teams are not very good. They're willing to drive shareholder value into the ground (like American natgas producers!) to grow.
All this and years of cheap credit have led to overcapacity for 10+ years. Here are two charts that show the growth in the global fleet:
(Click on image to enlarge)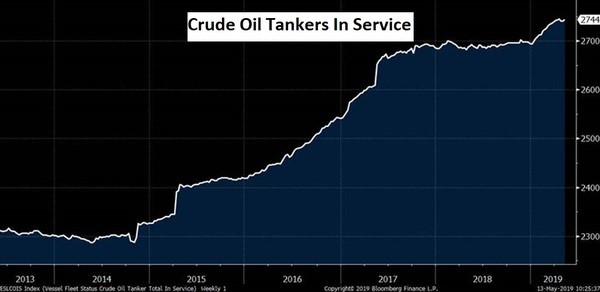 (Click on image to enlarge)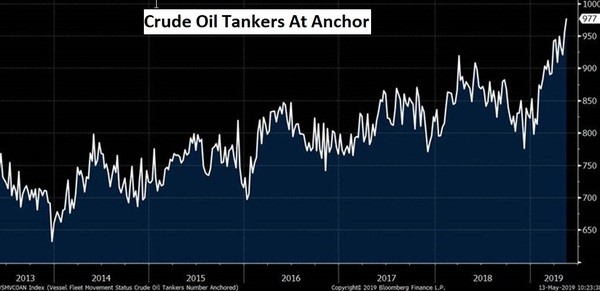 Those are not bullish charts. And of all the segments of the shipping business, the clean tankers have been one of the worst.
Clean tankers carry refined products like gasoline, diesel, distillates as well as chemicals. This contrasts with dirty tankers, which carry crude.
(Click on image to enlarge)

Source: Scorpio Tankers Stifel Conference Presentation
The misery in the sector reached its peak in 2018 when rates for MR (mid-range) tankers collapsed to below $5,000 per day last summer.
(Click on image to enlarge)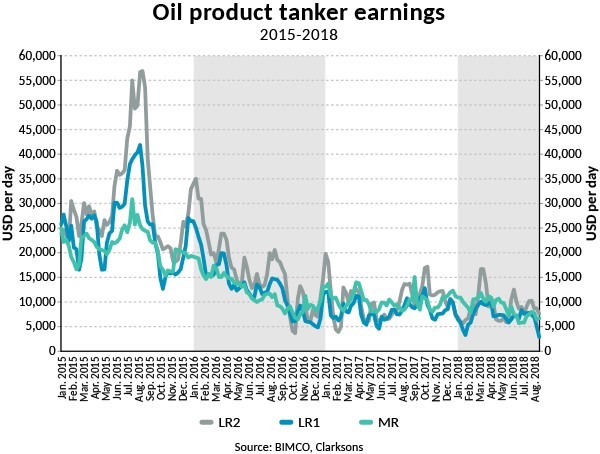 It has been bad for so long. So when someone starts talking bullish, and I mean REALLY bullish, I take notice.
Last Thursday Scorpio Tankers President Robert Bugbee was answering a question on their conference call when he said it would not be unreasonable to see cash flow of $25/share at some stage in this cycle.
Wait, what was that?
Scorpio Tankers (STNG) is a $28 stock. Only a few weeks ago, it was an $18 stock.
$25 per share of cash flow? Now that's bullish!
What's Going On Here?
It seems too good to be true, so I dug in.
There are a couple of things at play.
First, we have a 20 year low in shipbuilding orders. The product tanker order book stands at multi-year lows.
It has gotten so bad that shipyards are being paved over for commercial real estate. Those that remain have consolidated.
The order book today stands at 134 ships. That is 6.2% of the fleet delivering over the next 3 years.
Disclaimer: Under no circumstances should any material in this site be construed as an ...
more