Apple Soars After Blockbuster Quarter: Sales, EPS Smash Expectations, Buyback Boosted To $90BN
On the back of disappointing earnings from Netflix and Microsoft, offset by strong reports from Google and Facebook, traders were keeping a close eye on AAPL results this afternoon for a FAAMNG tiebreaker with Amazon still set to report tomorrow. And much to the delight of bulls, one quarter after Tim Cook's company reported blockbuster earnings including its first-ever $100BN quarter on the back of the iPhone 12 release, moments ago AAPL reported earnings that once again blew away expectations on the top and bottom line, coupled with the announcement that its buyback is being increased to $90BN!
Here are the details:
Q2 Rev. $89.58BN, up a whopping 54% Y/Y and smashing estimates of $77.30BN
Q2 EPS $1.40, beating estimates of 99c, and more than double the $0.64 a year ago.
Q2 iPhone Revenue $47.94BN, up 66% Y/Y from $28.9BN, and also smashing estimates of $41.49B
Q2 Products revenue $72.68BN, +62% y/y, and almost $10BN above the estimate $63.13 billion
Q2 Net Income more than doubled to $23.6 billion from $11.25 billion a year ago
Some more details from the quarter:
Mac revenue $9.10 billion, +70% y/y, estimate $6.80 billion
IPad revenue $7.81 billion, +79% y/y, estimate $5.65 billion
Wearables, home and accessories $7.84 billion, +25% y/y, estimate $7.52 billion
Service revenue $16.90 billion, +27% y/y, estimate $15.65 billion
Greater China rev. $17.73 billion, +87% y/y
Earnings snapshot:
(Click on image to enlarge)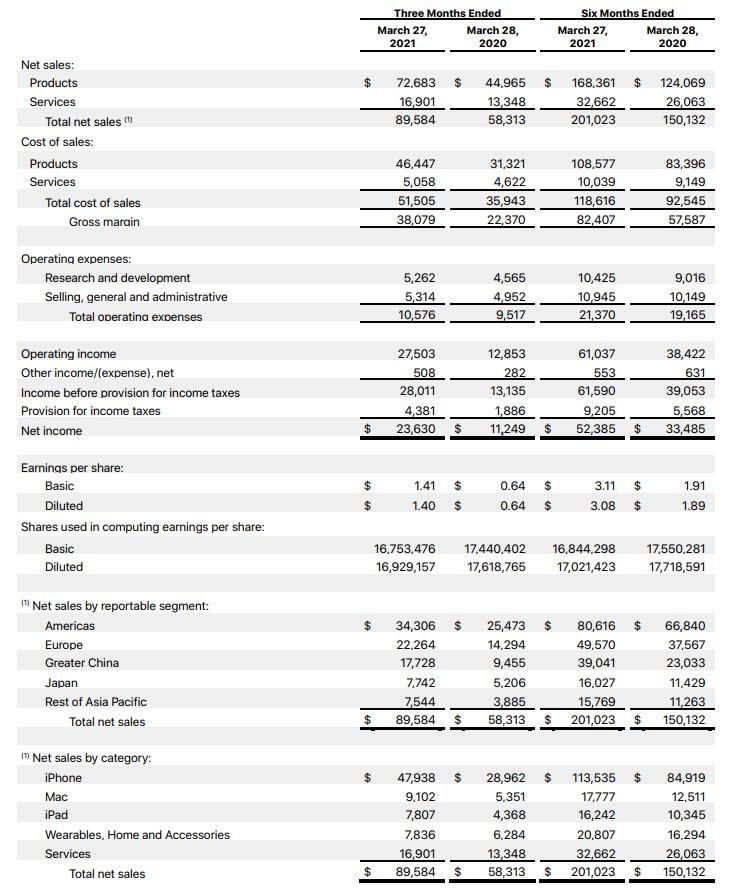 And in case the results were not impressive enough, the company also boosted its existing buyback authorization to $90BN - bigger than the market cap of 350 companies in the S&P500 - while also increasing its dividend by 7% to 22 cents from 20.5 cents previously. This follow's Google's $50BN buyback announcement yesterday.
Some more details:
While Mac revenue soared 70% to $9.1 billion, compared to $5.35 billion a year earlier (and above the $6.8 billion estimate) and iPad sales also surged by 79% to $7.81 billion, the highlight was iPhone sales which exploded by a whopping 66% to $47.9BN, up from $28.9BN, and blowing away expectations of $41.5BN.