Another Mega Short Squeeze On Deck
At the end of the first week of May which saw an eruption in violent market turbulence in the aftermath of the sharp spike in bond yields and the catastrophic 7Y auction we pointed out an observation from Goldman's Prime Broker desk. It noted that halfway through the week, Goldman traders saw the "largest global short sales since May" with the GS Prime book was net sold yesterday (-0.9 SDs vs. the average daily net flow of the past year), driven by short sales outpacing long buys 1.7 to 1."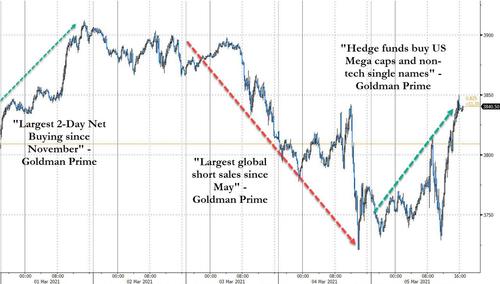 In fact, the mid-week puke wasn't so much selling as short-selling, as "modest net selling (-0.5 SDs) was driven by short sales outpacing long buys 1.5 to 1."

This prompted us to predict that what was coming would be a "mega squeeze" in stocks.
Sure enough just a few days later, on March 10, when stocks did explode higher in the second week of March, Goldman's Prime Brokerage Service observed that Tuesday's eruption was the result of "risk unwind in Macro Products vs. large net buying in Single Names" led by TMT and Consumer Disc stocks, with the Goldman Prime book net bought for a fifth straight day in which "trading flows were risk-off with short covers outpacing long sales 4 to 1." And just to make sure there is no confusion, Goldman prime said that "yesterday's de-grossing activity - short covers and long sales combined - was the largest since late January (-2.0 SDs)."
Furthermore, Bloomberg added that short covering in unprofitable tech firms helped the group halt seven straight days of selling and score the third-biggest net buying of the year. In fact, in the first two days of that week, the Goldman basket of the most-shorted tech stocks soared 7%, more than double the return of the Russell 3000.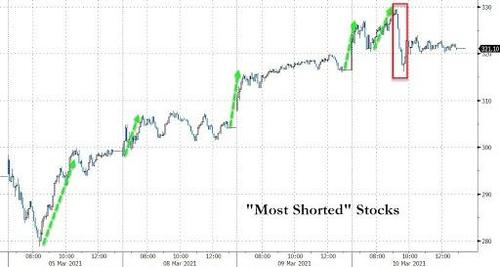 Commenting on the move, Andrew Brenner, the head of international fixed-income at NatAlliance Securities in New York told Bloomberg that "we see yesterday's move as short covering without legs." Ok fine, but tell that to any Nasdaq shorts whose legs - and everything else - was steamrolled in the historic move higher.
Disclaimer: Copyright ©2009-2021 ZeroHedge.com/ABC Media, LTD; All Rights Reserved. Zero Hedge is intended for Mature Audiences. Familiarize yourself with our legal and use policies every time ...
more