"An Inability To Turn Around": Deutsche Bank Slides After Reporting Dismal Earnings
That merger between Deutsche Bank and Commerzbank, which is contingent on the biggest German lender's inability to turn operations around, is looking increasingly likely, because earlier today Deutsche Bank reported earnings which confirmed that, well, it is simply unable to make said much-needed turn.
Deutsche Bank reported Q4 net revenue of €5.58BN - the lowest quarterly print in years - and 2.6% below the average analyst estimate of €5.73, led by another decline in trading revenue, resulting in a pretax loss of €319 million in line with estimates of a €331.0 million loss.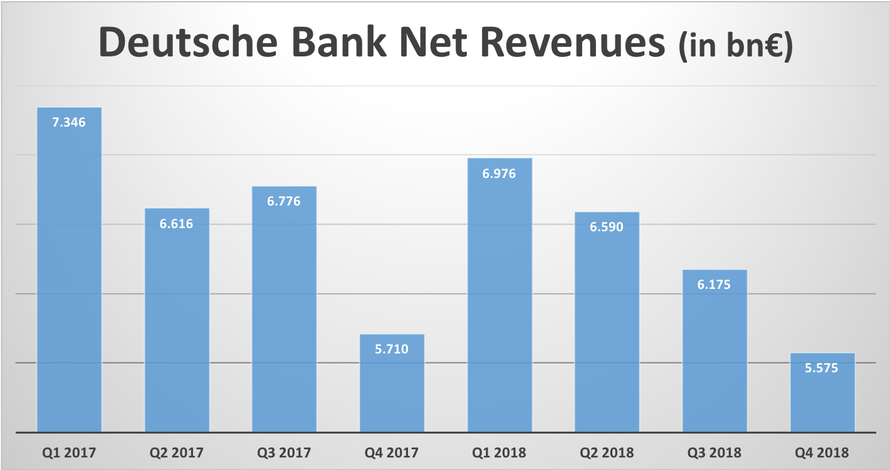 And as the bank shrank for an eighth straight quarter in the final months of last year, CEO Christian Sewing pledged, even more, cost cuts although it is clear by now that cost-cutting has starting to eat into profits.
To wit, in the volatile fourth quarter, in which market gyrations were supposed to help the company's trading desk (despite images of police raiding the bank's headquarters in November) revenue shrank another 2.4%, led by a slump in the key fixed-income trading business that did even worse than peers. The key bank's securities unit slumped, losing market share particularly in fixed income trading, where revenue slumped 23%, but also in equities, which declined 0.8%; both missed consensus estimates. The bank's U.S. peers on average reported a 17% drop in FICC and 4% higher equities revenue.
Here are the key results in a nutshell:
4Q FICC sales & trading revenue €786 million, missing the est. €992.0 million
4Q equities sales & trading revenue €379 million, missing the est. €372.0 million
4Q sales and trading revenue €1.17 billion, missing the est. €1.34 billion
4Q Investment Bank revenue €2.60 billion, missing the est. €2.72 billion
And so clearly unable to rightsize the company's revenues, the bank focused on cutting even more costs instead. To appease angry shareholders, CEO Sewing boosted his target for adjusted costs, promising to keep them below 21.8 billion euros this year, compared with the 22 billion euros previously announced, and affirmed a plan to return at least 4% on tangible equity "despite a challenging market environment."