Amazon Jumps And Dumps As AWS Growth Slows, Outlook Disappoints
Last quarter, when Amazon reported otherwise respectable earnings, the market hammered the stock after the company guided to the lowest revenue growth since 2001. And, as the company reported moments ago, while its guidance may have been slightly downbeat, it wasn't too far off as Amazon reported Q1 net sales of $59.7BN, just above the $59.68BN consensus estimate, while generating an impressive $7.09 in Q1 EPS, well above the $4.67 expected.
Here are the summary highlights:
EPS of $7.09, beating estimates of $4.67
Revenue of $59.7BN, in line with estimates of $59.68BN
Operating income of $4.42 billion, also beating consensus estimates of $3.10 billion
Amazon Web Services rose 42% to $7.70BN, Exp. $7.67BN; this compares to growth of 45% last quarter and 46% the quarter before.
The good news here is that whereas Q1 revenue did come in slightly better than expected, it still showed a significant slowdown, rising 17% in Q1, the slowest growth pace in 4 years. Looking ahead, the slowdown is expected to accelerate, as the company now expects Q2 net sales of $59.5BN to $63.5BN, with the midpoint of $61.5BN coming in below the Wall Street consensus estimate of $62.4BN. If revenue comes in right on the midpoint, it would represent another top-line slowdown of 16.3% in Q2.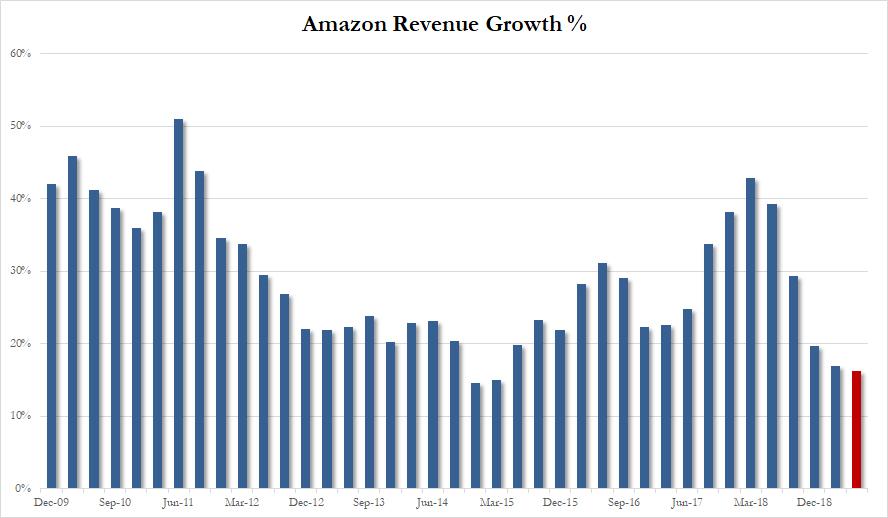 That said, the company's profit margin nearly doubled, from 3.8% last year to an impressive 7.4% in Q1 2019, largely thanks to the increasing contribution from AWS.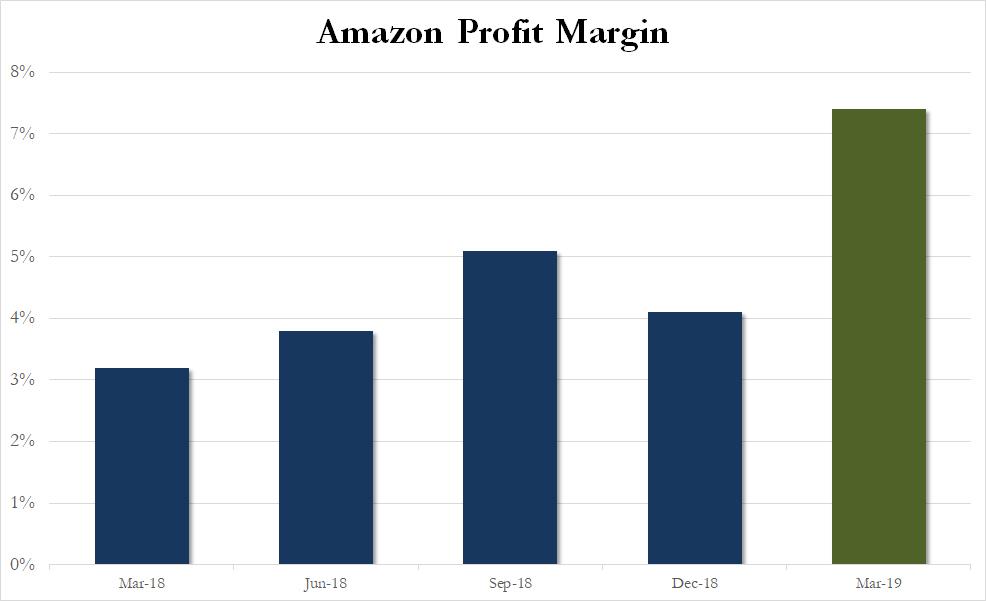 On the other hand, Amazon's operating income outlook disappointed, with the company now expecting it to come in between $2.6 billion and $3.6 billion, compared with $3.0 billion in second quarter 2018, but well below the Wall Street consensus estimate of $4.2 billion.
One notable improvement was the sharp drop in the international loss, which shrank to just $90MM in Q1 2018, down sharply from the $622MM loss a year prior.
As noted above, the all important Amazon Web Services was once again responsible for more than half of Amazon's entire profit, with the division generating $7.7BN in revenue and $2.22BN in operating income, a 28.9% margin, down from the 29.3% in Q4, and responsible for 50.2% of Amazon's total operating income of $4.42BN. Slightly more concerning was the slowdown in AWS revenue, which rose 42%, down from 45% last quarter.