Alpha Pro Tech Limited: Here Is What It Looks Like Today
"But some organizations are planning for a long-term future in which prevention methods such as masking, good ventilation and testing continue in some form. Meanwhile, a new and potentially lucrative Covid-19 industry is emerging quickly, as businesses invest in goods and services such as air-quality monitoring, filters, diagnostic kits and new treatments."
The reason I bring this up is because the short-term stress that the stock price is going through appears to be based on the idea that many states are lifting the mask mandate. However, even where the mandate has been lifted, people were still wearing masks. Moreover, I believe people will continue wearing masks for some time into the future regardless of whether it is mandatory or not.
What is really interesting is that Alpha Pro Tech is tentatively scheduled to report earnings on March 9. I believe that will be an important happening to the fate of this company. I would expect they will come close to meeting current estimates of $1.79 a share for fiscal 2020. The real question will be if guidance and/or estimates for 2021 – which currently sit at $2.49 – materially change or not.
Alpha Pro Tech February 5, 2021
Here is what Alpha Pro Tech looked like when I published the article on February 5. Note the surge in earnings growth but further note the extreme volatility that the stock had gone through in the last two years. That obviously has not changed or subsided, at least yet.
(Click on image to enlarge)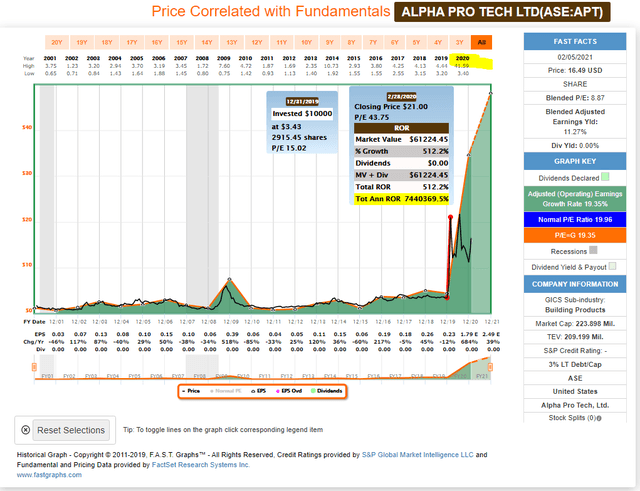 (Source FAST Graphs)
Alpha Pro Tech: Here Is What It Looks Like Today
Even though the price drop has been severe and considering that it is down another 8% or so today, when you look at it on the below graphic and measure it relative to earnings expectations, your perspective might change. The magnitude of the drop as previously stated has been 50%, but relative to the expected earnings growth the stock still looks extremely undervalued. Most importantly, although they might, expectations for earnings for this year and next have not yet changed.
Disclosure: No position.
Disclaimer: The opinions in this article are for informational and educational purposes only and should not be construed as a recommendation to buy or sell the stocks ...
more